Keeping up with the competition is critical for the success of any business. In order to maintain a competitive edge, you need to stay current with industry news. That's where market intelligence tools come in.
In this guide, we will discuss what market intelligence tools are, why they're important, and the best ones to use. We'll also give you a few tips on how to get the most out of these valuable resources. Whether you're just starting out or you've been in business for years, this guide has everything you need to get started.
---
The Ultimate Guide to Market Intelligence Tools:
---
What is market intelligence?
Market intelligence is the process of collecting, organizing, and analyzing data to help you make informed decisions about business. The information gathered through this method can come from a variety of sources, including market research, customer feedback, and competitor analysis, to name a few. Also, it is through this process that you get to determine your target market, understand your customers' needs and wants, and find out what your competition is doing. This way, you can identify your business metrics and define your marketing strategies.
---
Is market intelligence the same as business intelligence (BI)?
While market intelligence and business intelligence (BI) may sound similar, they are two different things. BI is a process that helps organizations make decisions by analyzing internal data, such as sales figures and financial reports. On the other hand, market intelligence uses external data to understand the current market trends, customer behavior, and competition.
It is good to note that using the data gathered from both methods can help you make more informed business decisions. However, market intelligence is more focused on giving you an overview of the current market landscape while BI gives you insights on how your business is performing in relation to your competitors.
---
Why is market intelligence important?
There are many reasons why market intelligence is essential for businesses, but here are some of the most important ones: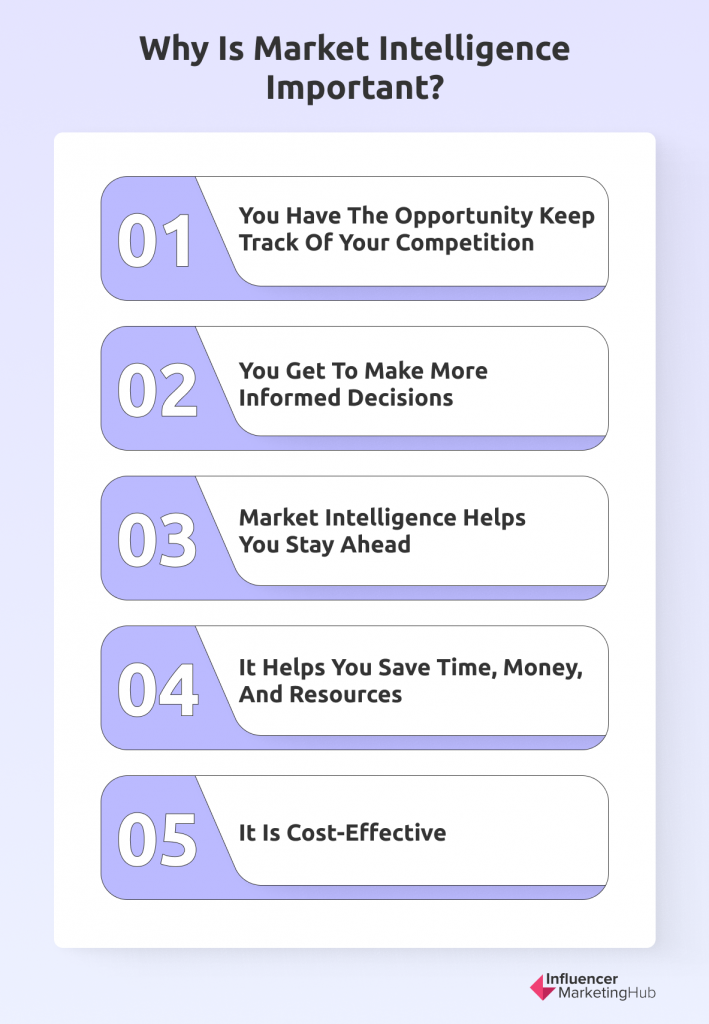 You have the opportunity to keep track of your competition.
With market intelligence tools, you can keep tabs on what your competitors are doing to stay ahead of the curve. This overview of the current market landscape and how it is changing can provide insights into necessary changes to your own business to stay competitive.
You get to make more informed decisions.
Market intelligence provides you with the data you need to make informed decisions about your business. This is because it gives you an overview of the current market trends and how they might impact your business. It also allows you to understand your customers better and find out how you can better deliver your products or services.
Market intelligence helps you stay ahead.
With market intelligence, you have the opportunity to stay ahead of your competition through the latest industry trends. You can also use this information to find new opportunities to capitalize on. Your business content distribution, for instance, can employ a more robust strategy to reach a wider audience and get your message out there.
It helps you save time, money, and resources.
Market intelligence can save you a lot of time, money, and resources. This is because you will no longer need to guess what your customers want and instead focus efforts on effective strategies. You will also be able to avoid making costly mistakes that can damage your business reputation.
It is cost-effective.
Using market intelligence tools is often more cost-effective than conducting your own market research. This is because you can get the information you need without having to hire expensive market research firms.
---
The 5 most common types of market intelligence tools
There's a lot of data out there and it can be hard to know which market intelligence tool to use. That's where this guide comes in! We'll explore the 5 most common types of market intelligence tools and give you an example of each.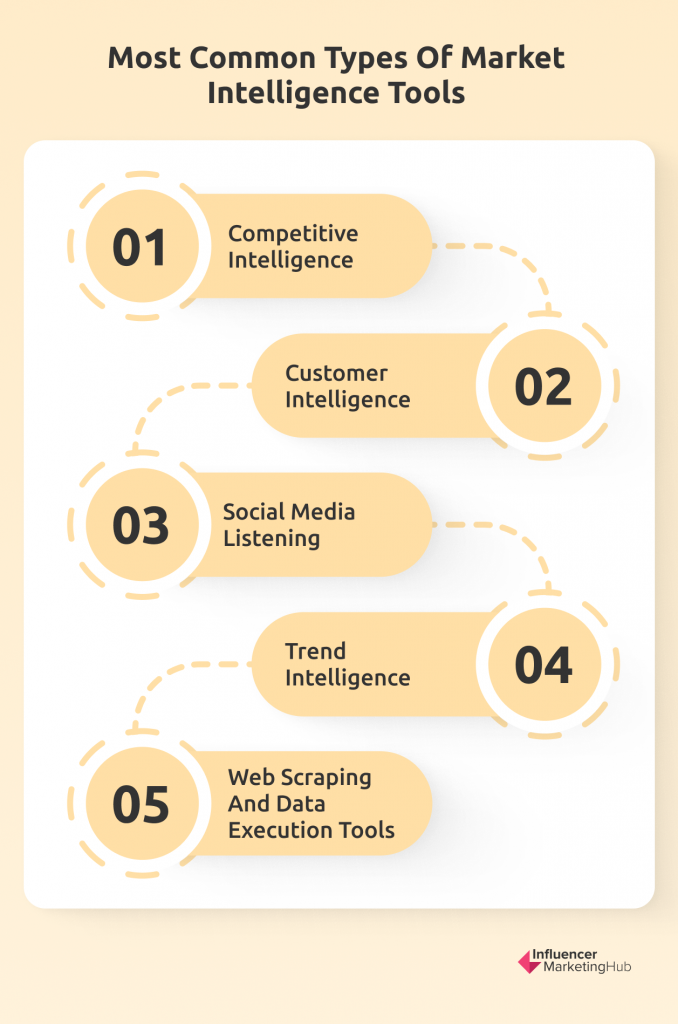 1. Competitive intelligence
Tools that fall under this category help you track your competitor's marketing strategies, product offerings, and business moves. It can also give you insights into their own customer base and target market.
One example of this is SEMRush, a well-known competitor analysis tool that offers a variety of features such as competitor keyword research, traffic analysis, and more.
SEMrush is a comprehensive tool when it comes to SEO, content creation and distribution, and market and competitor analysis, to name a few. They identify themselves as "an all-in-one marketing toolkit for digital marketers," and they deliver. They have a suite of 44 tools organized into five main categories: SEO, advertising, social media, content and PR, and market research.
SEMrush is a great choice for businesses that are serious about marketing and willing to invest in a comprehensive tool. However, it can be overwhelming for beginners and the price tag may be too high for small businesses.
---
2. Customer intelligence
This type of market intelligence can help you create marketing campaigns that are more effective and efficient because you do not only cover sentiment analysis, but you also cover voice of the customer, customer profile, and customer journey. These are essential to understand how customers interact with your brand, what their needs are, and how you can reach them better.
When it comes to this kind of need, Digimind offers a solution that can help.
As a market intelligence tool, Digimind provides you with the ability to track customer conversations across blogs and social media networks, including Twitter, Facebook Instagram, YouTube and more. This data will help you understand what people are saying about your brand, and find opportunities for marketing and customer service. In addition, you can monitor any brand or keyword on these sites. You can also see any necessary data to make better marketing decisions with sentiment analysis.
Digimind is great for businesses that want to track their brand reputation and understand what customers are saying about them online. It is also helpful for identifying customer service opportunities and improving customer engagement.
If you are looking for a tool that can provide a comprehensive set of data that you can leverage for your business, Digimind is a great choice. That is because it offers more than just simple sentiment analysis but also provides insights into the customer journey and how you can improve your marketing efforts at each stage.
---
3. Social media listening
Social media listening is a trending marketing intelligence tool that allows you to track social media conversations and understand what people are saying about your brand. Take Mention, for example. It is a social media listening tool that allows you to track any brand, keyword, or hashtag on social media. This includes Twitter, Facebook, Instagram, YouTube, and more. You can also set up alerts so you can be notified whenever there is a new mention of your brand.
Mention is a powerful tool that can help you discover what people are saying about your company or product. Powered by boolean operators, this automated marketing machine easily lets marketers track mentions of their brands across the web and social media. With this data, you can discover popular discussion topics, get insights into how to optimize their marketing strategies, and more.
If you are looking for a social media listening tool that can help you understand what people are saying about your brand, then Mention is a great choice. It is easy to use and provides accurate data.
---
4. Trend Intelligence
Trends are important for businesses because they can help you understand what people are interested in and how that might change in the future. This type of market intelligence can help you make strategic decisions about your business, product, or service offerings.
When it comes to trends, PipeCandy is a great tool to help you understand what people are interested in. It allows you to track trends through trend reports, data sets, and more.
One of its solutions, Prospector, helps marketers gain insight into their prospective clients. Firehose API allows bigger businesses with their own data to access custom sets of databases. Furthermore, eCommerce business proprietors will likely derive just as much utility from the Researcher service's trend reports of the market.
---
5. Web scraping and data execution tools
Web scraping is a method of data extraction from websites. This can be a great way to gather website data about your competitors, and how their customers use their sites. Take a look at the tool, Scrapy. Its web crawling library is an open-source portable framework that extracts data from the web. It is easy to use and can be used to crawl websites and extract data such as product descriptions, prices, and more.
Scrapy is easy to use and can be used to crawl websites and extract data automatically. With this tool, you can focus on your market intelligence goals while the tool takes care of the web scraping for you. All you need to do is define what data you want to collect and let Scrapy do its job.
---
5 best practices for using market intelligence tools effectively
Whether you are a small or big company, staying on top of your competition can feel like a tedious task. What strategies do they employ to sell their products and services? What kind of customers are buying the most from them? How are they reaching these customers?
In today's fast-paced economy, staying informed and connected with your market is critical. By following these five best practices, you can use these market intelligence tools to increase your company's visibility into what competitors are doing and whether it's working for them or not.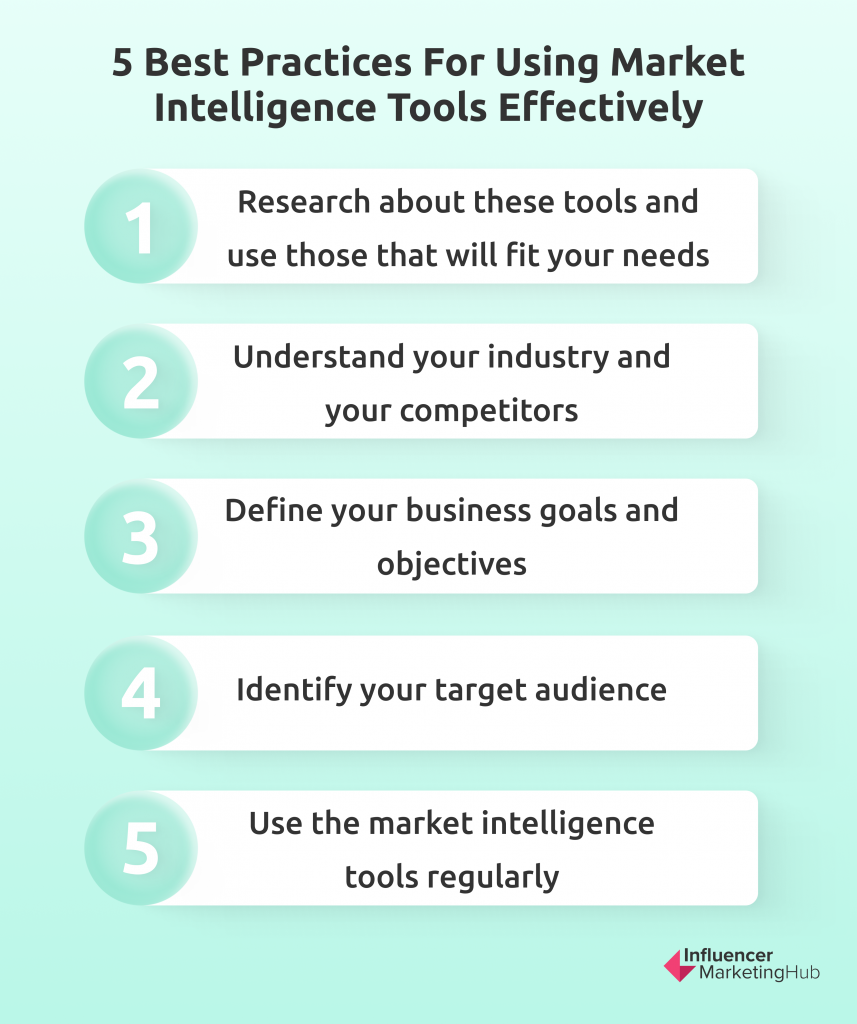 1) Research about these tools and use those that will fit your needs.
Research the market intelligence tools available to you and determine which fits your company best. Are there any specific features in these tools that you need? Is one tool easier for your company to use than others? Do the different tools have different functionality? What challenges might come up with using a particular tool? Does it offer a certain type of service that you're looking for, like surveying customers or listening to social media chatter? If you can answer these questions before buying, you'll have an easier time finding what works best for your business.
2) Understand your industry and your competitors.
Understanding the landscape you do business in will make it easier to determine how things should be done or how they could be done better. For example, if you're in the travel industry, look for how your competitors are advertising their destinations or what prices they are charging for a ticket. You can also look for insights into new value-adding services that other companies may be offering, or even see what new trends you can utilize for content.
3) Define your business goals and objectives.
Before diving into the digital world of market intelligence, it's important to have a clear business identity and determine quantitative, realistic goals. This will enable you to be more intentional and effective when using market intelligence tools. Are you a new brand that aims to increase awareness, or are you promoting your service to a new demographic to widen your customer base?
4) Identify your target audience.
Your target audience should be clear before you start using any market intelligence tools. Knowing the people in your target market will help you determine how best to tailor your marketing strategies around them.
5) Use market intelligence tools regularly.
It can be tempting to rely on market intelligence tools for a quick glance at what your competitors are doing, but it's important to use these tools regularly. Make sure that you set up alerts in your favorite market intelligence tool so that you're notified when your competitors do something new. You could set up alerts for new items being added and keep tabs on competitor pricing. On top of this, you could also search for keywords related to the type of services or products you offer and determine how these are being presented.
---
Market intelligence is essential in today's digital world
No matter what business you're in, market intelligence is essential. This comprehensive guide will give you the information you need to get started using market intelligence tools in your business. With the amount of data generated and streamlined for your needs, you get to paint an accurate picture in the competitive landscape of what is happening and how you can take your business to the top.
So, whether you are just getting started with market intelligence or been using it for a while, make sure to keep these tips in mind. If you use market intelligence tools correctly, you will be well on your way to a successful future.