Creating an engaging newsletter is no mean feat. You need to know who your target audience is and continuously find fresh topics that they will find interesting and valuable. In fact, the hard work already started long before you could even send your first email newsletter. After all, you need an email list, right?
So, when it comes to the stage where you can actually start with designing your newsletter, it makes sense to use tools – like a template – to reduce your workload. Not only can email templates save you time, but as they've been designed by professional designers in most cases the chances are greater that you'll get the open rate that you've hoped for and that users will click on your calls to action. It's also one of the easiest ways to ensure brand consistency from one email to the next.
To help you find the ultimate email newsletter template that you can use in 2022 and beyond, here are some of the best sources that you can check out. Some focus solely on sharing designs while others offer a wide range of helpful features that can help you to put your email marketing basically on autopilot.
---
10+ Sources for Modern Newsletter Templates:
---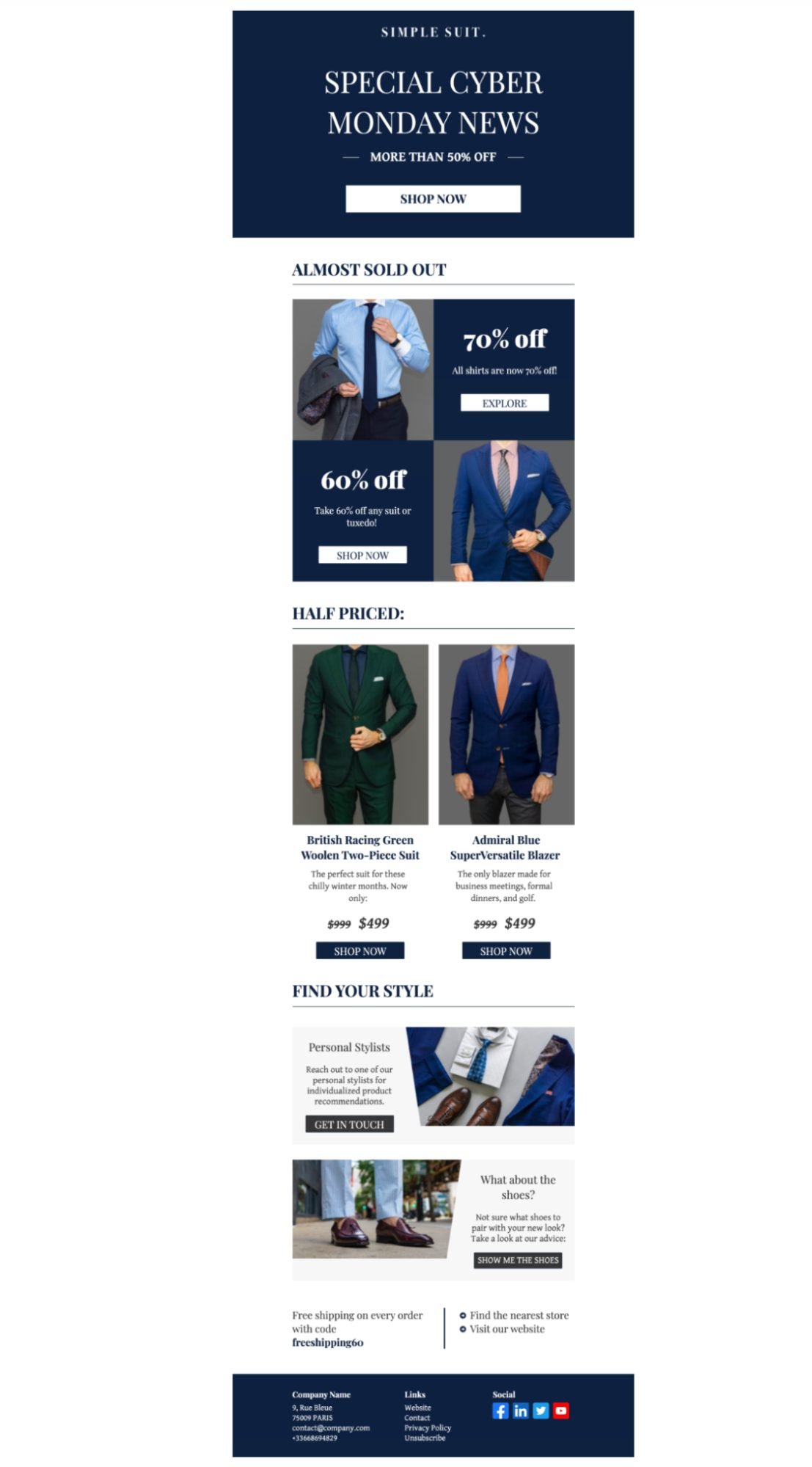 Sendinblue offers more than 40 free, professionally designed, HTML email newsletter templates that you can use to grow your brand image and showcase your services or products. These templates have been created for various different sectors and purposes. Not only do you need no coding or graphic design experience, but they're also fully responsive and customizable with their built-in, drag-and-drop editor.
For example, if you're an eCommerce business, you can check out their Simple Suit template. It has a number of classic elements like calls to action to promote a sale. On the other hand, if your goal is rather to highlight your blog, you can check out their blog and media newsletter templates.
---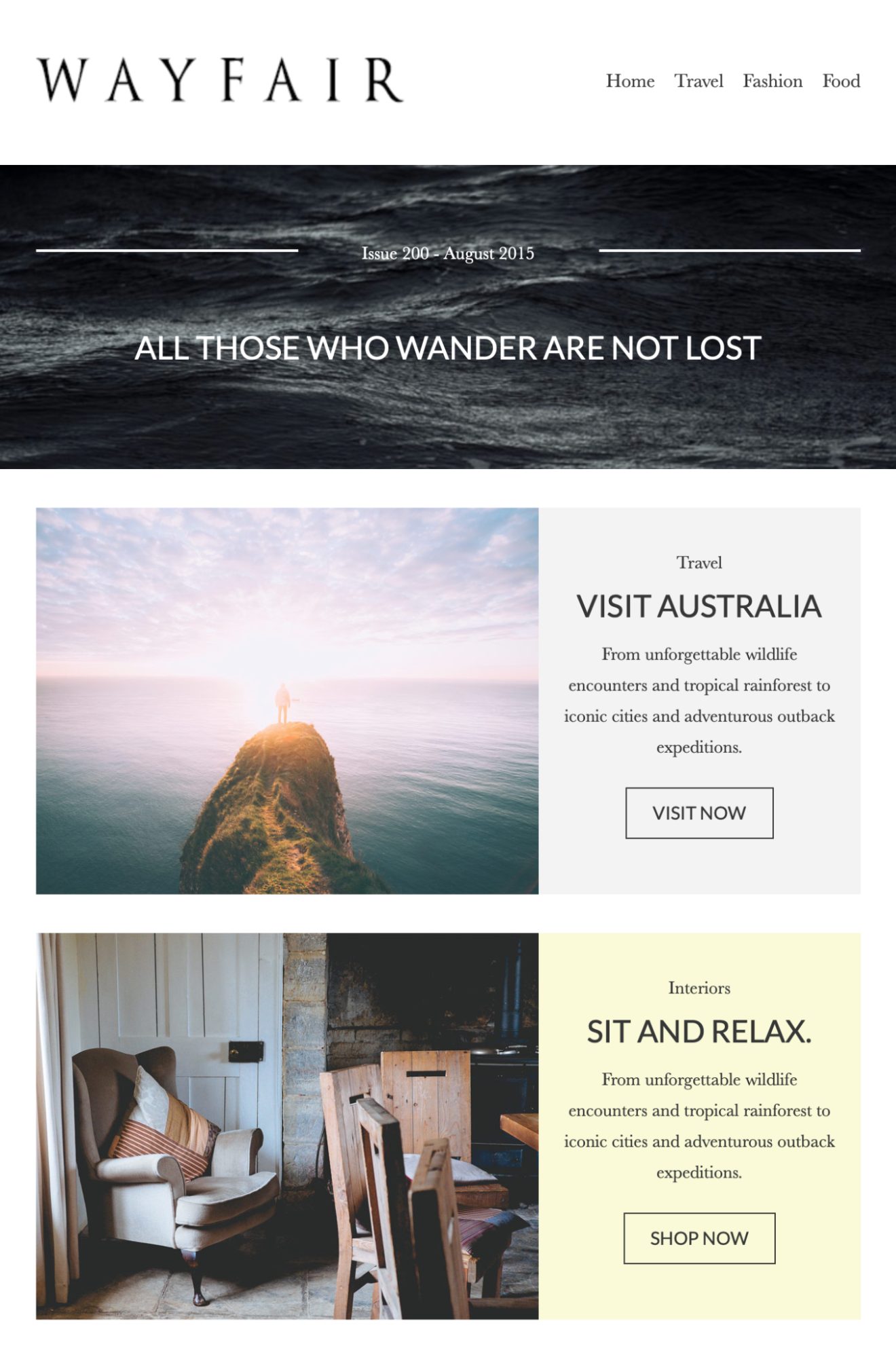 One of the useful features of EmailOctopus is that you can either use one of their ready-to-use email templates, import an existing HTML template, or create your own template from scratch. Like most tools, they include an intuitive drag-and-drop editor that makes the whole process quick and simple. Plus, all their templates are also optimized for mobile, but if you want to make sure that everything will display correctly on mobile, you can use the preview feature.
If you know that you'll be sending more than simply newsletters, you can also check out their email packs. On their website, they share a number of free email packs that you can download. These work with all email marketing platforms and so even if you don't want to use EmailOctopus you'll be able to put them to good use.
---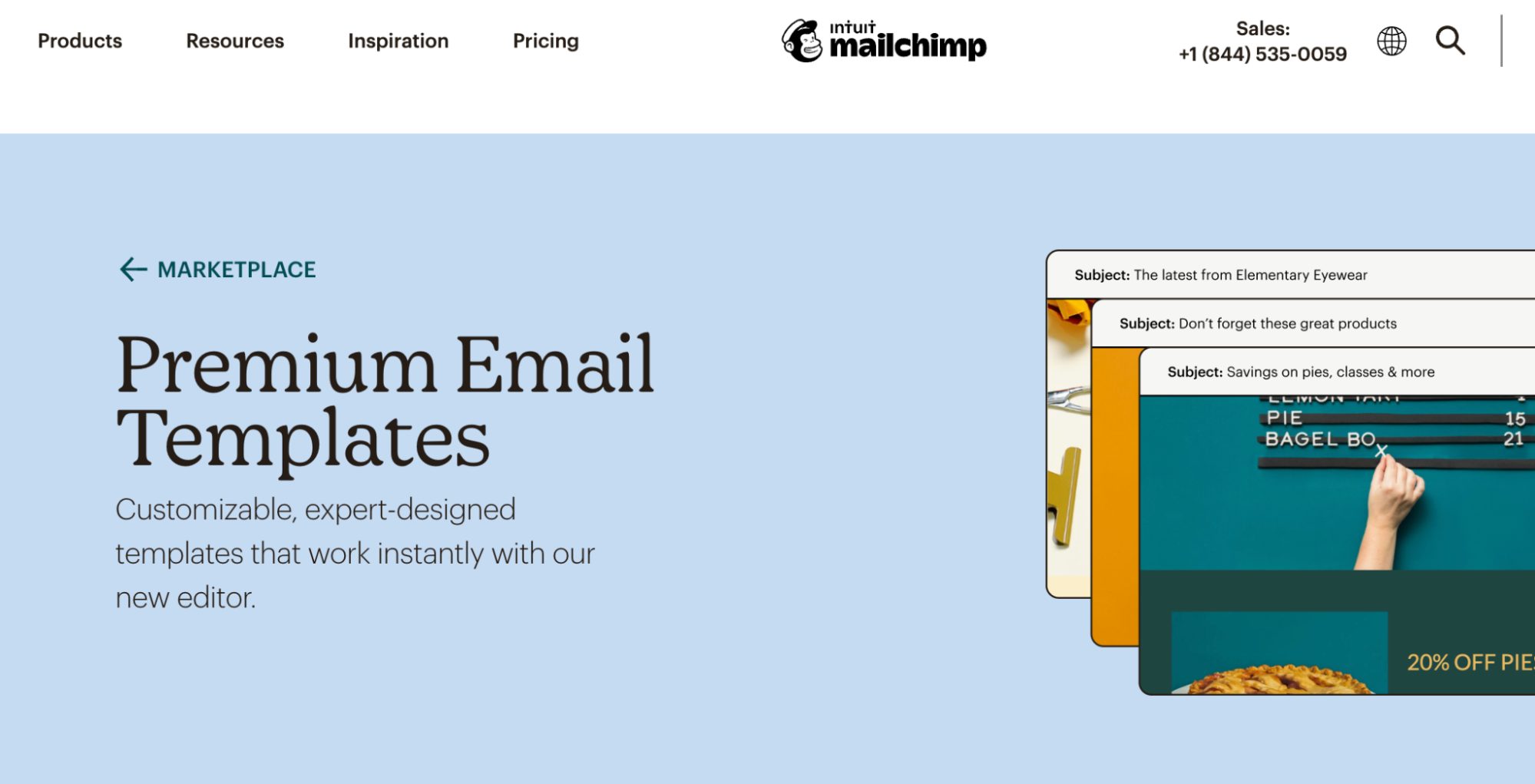 As one of the top free email marketing services, you've probably received a couple of emails that have been sent with Mailchimp. They're one of the most popular tools and offer 100+ email templates and designs for a wide range of messages. You can customize their templates and use their intuitive design tools to make your message pop.
Though, just like with a couple of the other tools, you'll first need to create a free account and for that you'll need to share your email address and physical address to comply with international anti-spam laws. Also, they share only a few free templates and not all are available with the Free plan. If you're willing to buy a template, you're looking at spending between $7 and $10 for a template, with the most expensive ones set at $15.
Alternatively, if you want to code your template, you can do that too. Plus, they've created a useful guide to take you through the process step by step.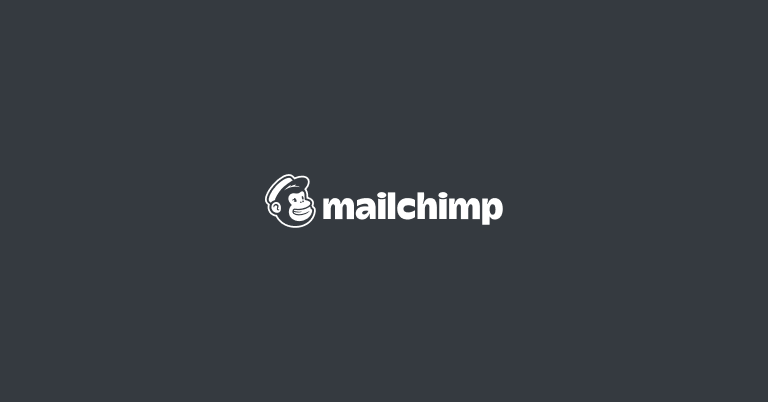 Key Features: CRM, Email Marketing,
Channels: Facebook, Twitter, Youtube, Linkedin, Instagram, Pinterest
---
The only thing that's lite about MailerLite's template collection is the degree of work that's needed to turn it into a message that will capture attention. One thing that stands out about their templates specifically designed with newsletters in mind is the amount of white space that it incorporates. If you prefer a simple and clean design over something bolder and busier, be sure to check these ones out. That being said, if you plan on sending a text-heavy newsletter, they have a special template for that too.
As is the case with many tools, you'll need an account to access these templates. Plus, you'll first have to complete your profile, which is a bit of an annoyance (and, we'll be honest, there are many fields that you'll need to complete).
Once you're all set up and you've selected your template, you can start to edit it. This part of the process is at least pretty straightforward.
---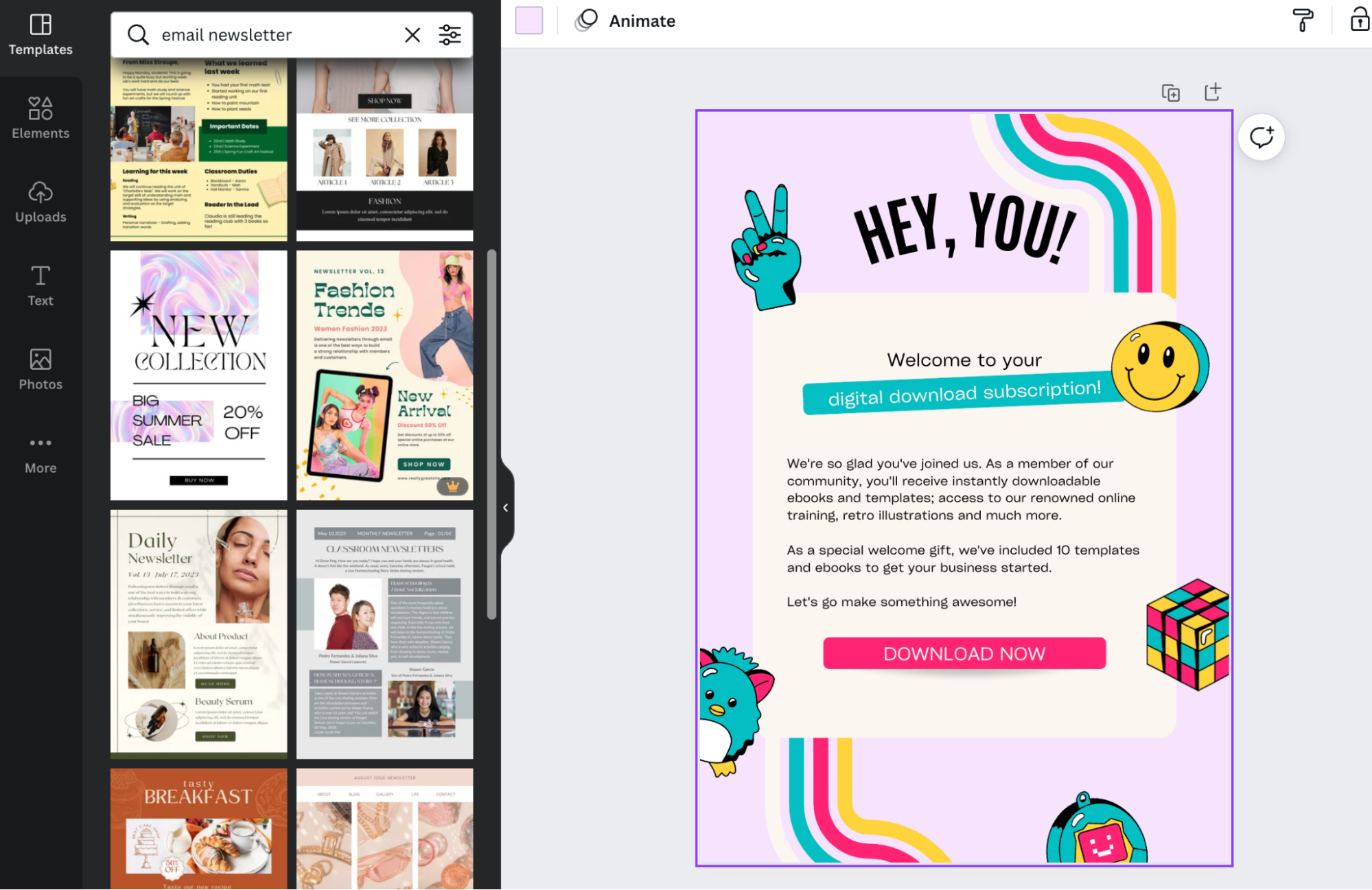 Canva is one of the most popular tools for graphical work (and one of our firm favorites and go-to tools). They offer templates for basically anything. From personal T-shirt designs to business logos to YouTube channel art to email newsletters, it's highly unlikely that you won't find a template for your needs.
With regards to email newsletters specifically, they offer hundreds of templates. While most of these are paid, they offer nearly 200 free options too. Not only can you possibly get a template without having to pay anything, but it's also easy to use. You can search by style or color and when you've found a template that you like, you can use the drag-and-drop feature to customize the template to match your branding.
---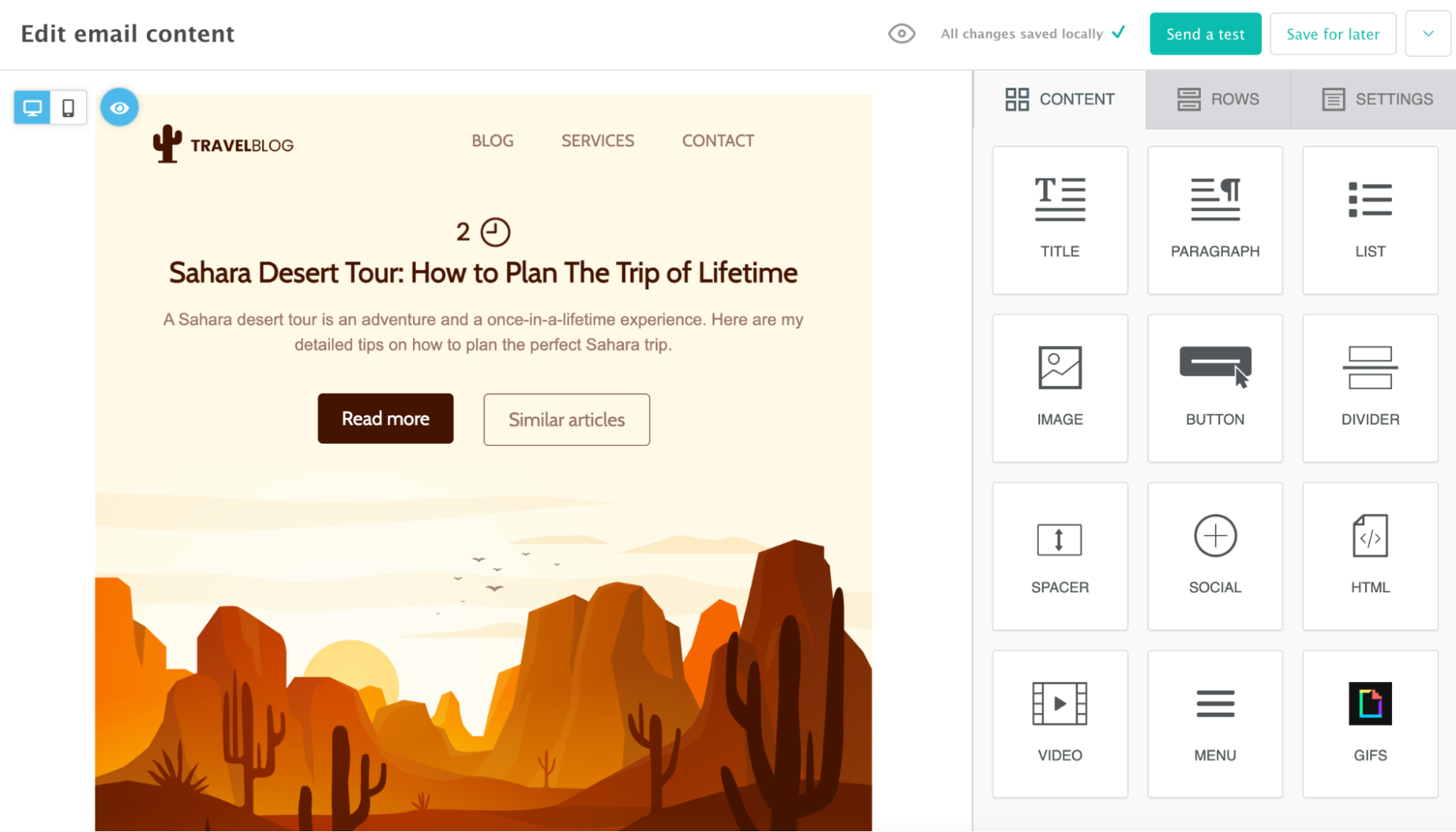 No, Cakemail isn't something that you can eat. What it does well, though, is make creating email newsletters, a piece of cake. It offers more than 700 professional email templates of which 75 have been designed specifically for newsletters. Then, you can, for example, search by industry or event to narrow it down further.
It also offers a lot of customization. You can change all the standard things like the font, text color, background color, but it also makes it easy to change more technical elements like the letter spacing, and line height.
---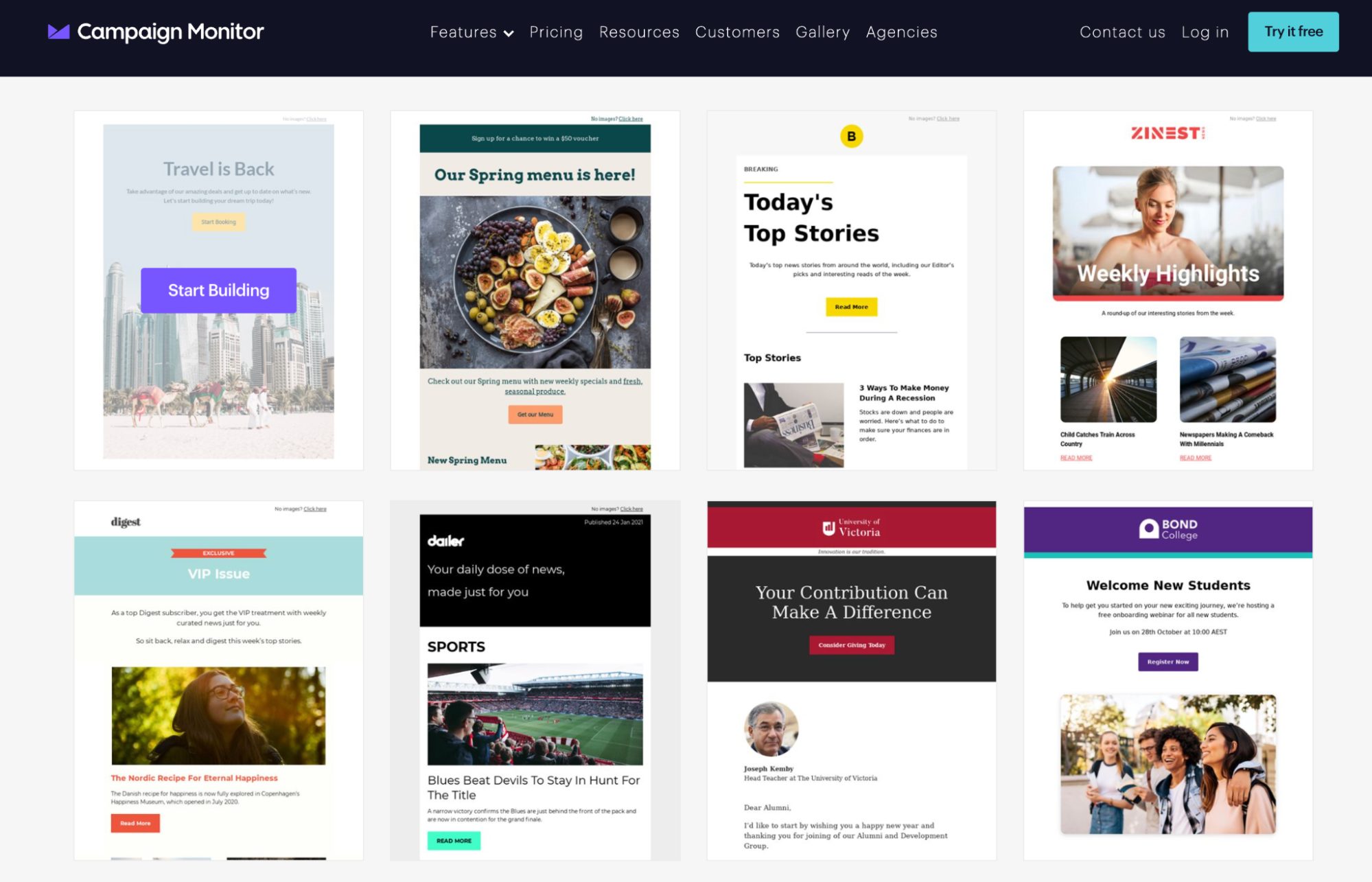 While Campaign Monitor's selection of free newsletter email templates aren't that big, they're all created and optimized to be customizable and responsive. Using their drag-and-drop editor, you can add text, images from your computer, new sections, extra buttons, and social links. It also lets you add video. All you have to do is enter the URL.
One feature that deserves special mention is the template management for teams which email marketers will find very useful. If you're working as part of a bigger marketing team, this can be pretty useful. In short, with this feature, you can let your email designer lock specific sections of the template. This way you can make sure that nothing happens to your branding or key business info.
---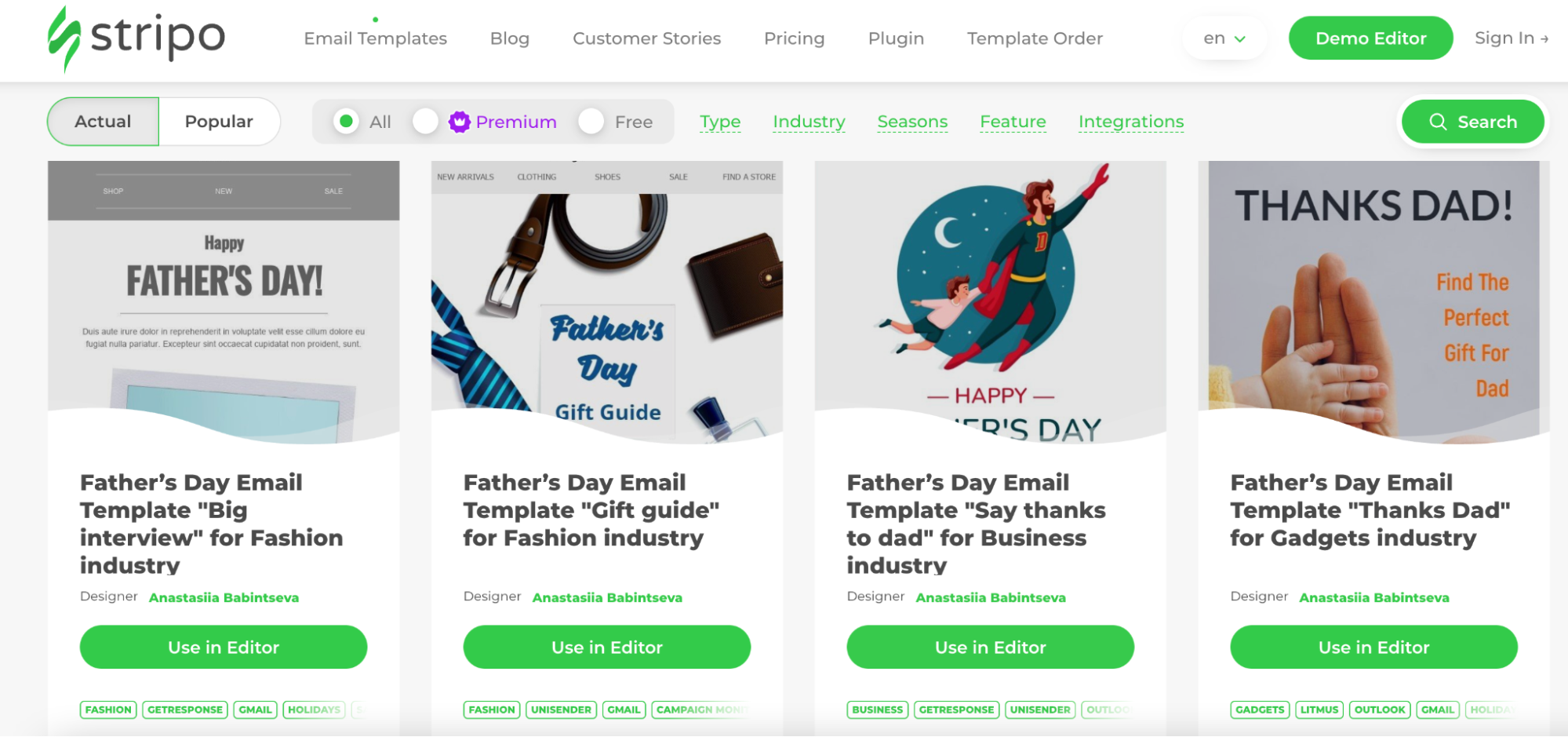 If you're searching for email templates and a way to offer support to Ukraine, you can check out Stripo, an advanced email design platform that has offices in Ukraine and the US. It has one of the biggest libraries with more than 1,000 templates that you can customize. All the templates are fully responsive. So, it will render correctly on all types of desktop and mobile devices. While you can use their easy-to-use, drag-and-drop editor, it also has a full-fledged code editor that you use for even more control.
One of the features that make it really useful is that you can filter the templates by integrations. So, if you already use a specific email client like GetResponse, it will narrow down the results to templates that work with this tool.
Another feature that deserves special mention is the ability to add real-time and dynamic content. This way you can add content that will get updated as soon as subscribers click on it.
---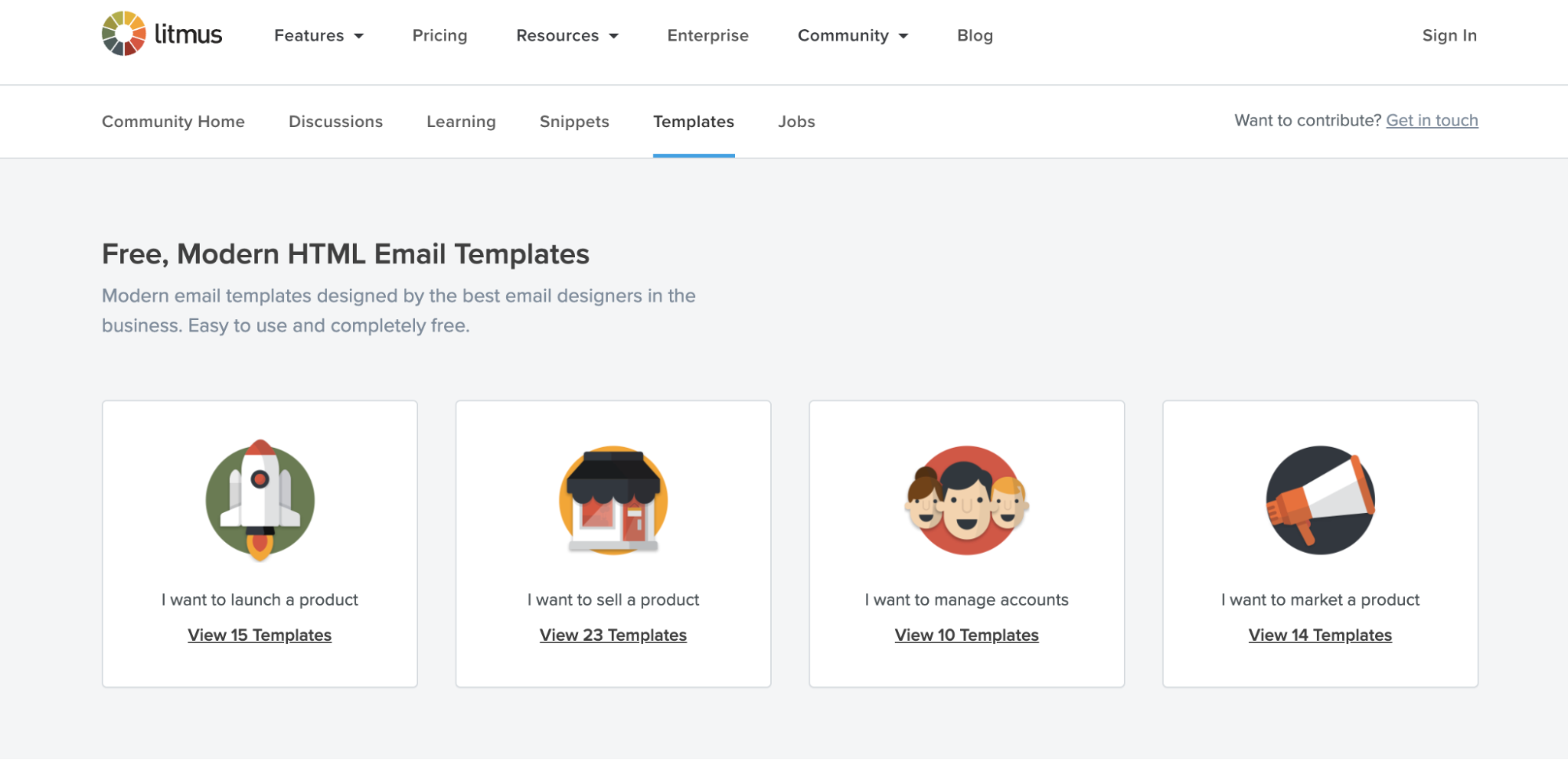 Litmus is trusted by more than 700,000 designers and developers and while they offer only 62 free templates, their template gallery includes all the kinds of templates that you'll need for transactional emails and marketing emails. With regards to newsletters specifically, they offer a template with content dividers as well as something more straightforward. Though, to use their templates, you'll need to create a free Litmus account.
---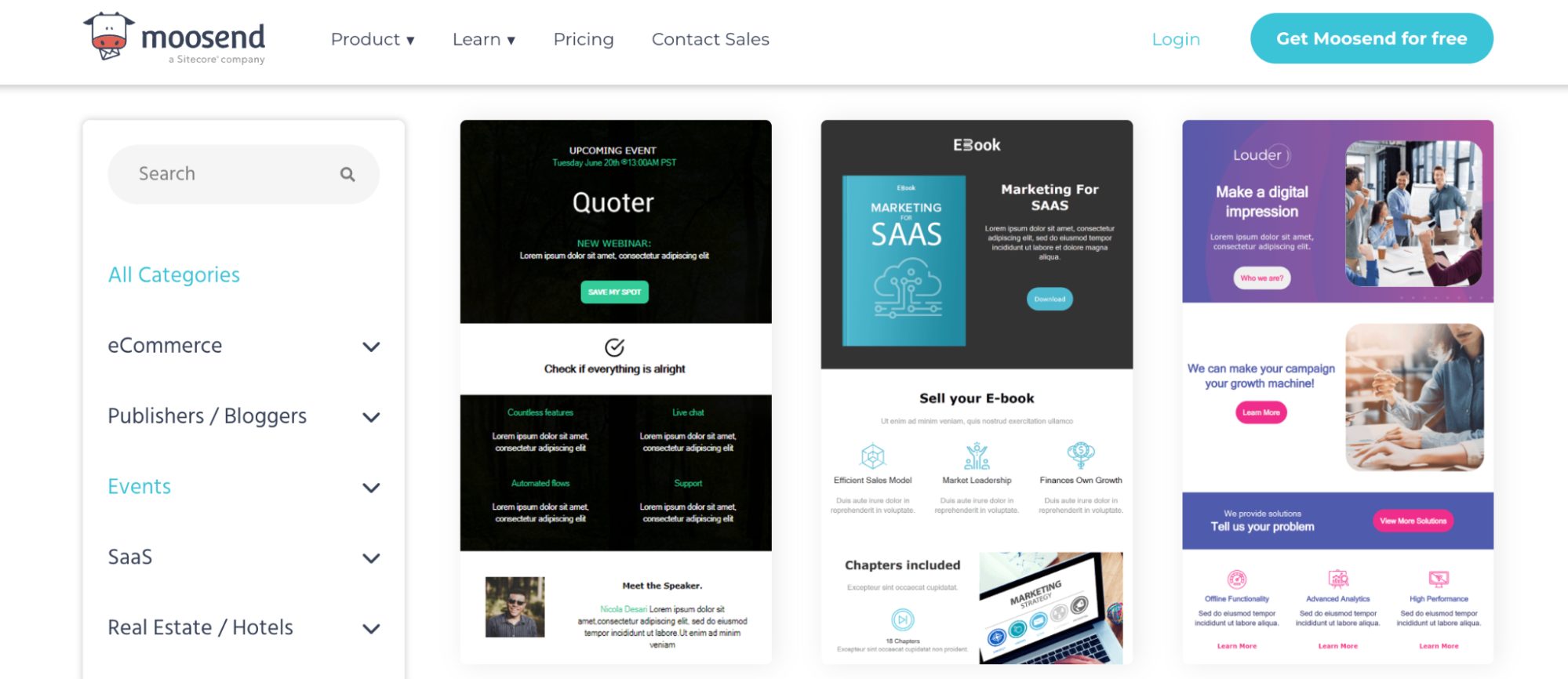 Moosend shares more than 70 fully customizable newsletter templates. These have been created by designers to help you save time while still making sure that your brand comes across as professional. While their library's size is about the same size as Litmus, you can edit their templates without having to create an account first.
When it comes to editing, it offers you a lot of options. From small details like the icon style to bigger design elements like the structure, their rich email editor makes it easy to create a newsletter that will align with your branding. What's more, it's also a great source for visuals if you want to send more interactive emails. With the help of their image picker, you can add images and GIFs that will help to improve engagement.
---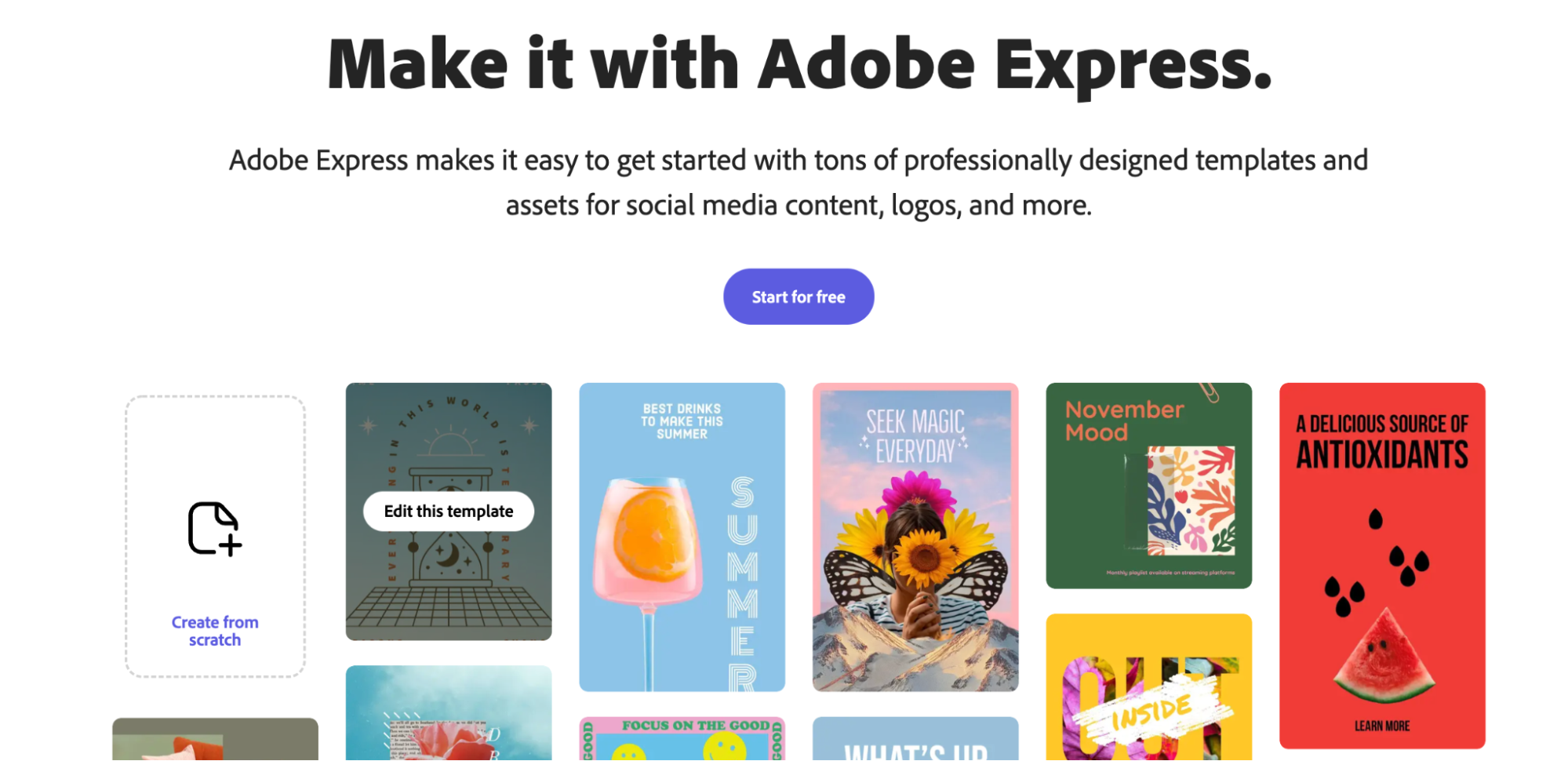 Adobe needs no introduction. If you haven't turned to Adobe for templates before, you've probably used it for other digital tasks like editing PDFs. The all-new Adobe Express offers thousands of templates that you can customize for free. What's more, you'll also get access to Adobe Stock royalty-free photos and a library with fonts.
Similarly to Canva, it has numerous categories. In addition to newsletters, you can also use it for anything from ad banners to Zoom backgrounds. To apply brand elements like your logo, color scheme, and fonts, though, you'll need to sign up for a premium plan.
---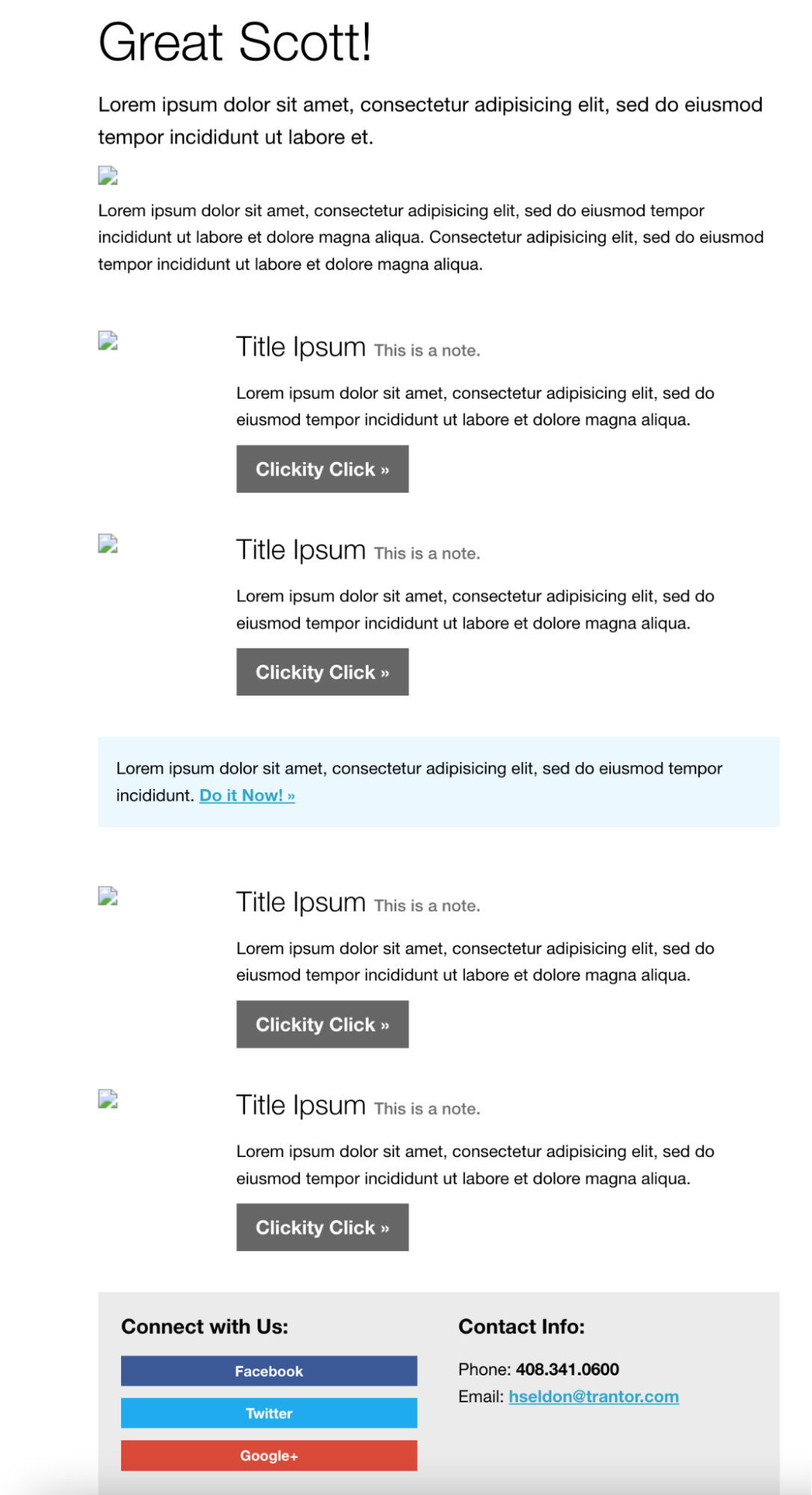 Founded in 1998, ZURB is a product design company that helps brands to create digital products like apps, sites, and software. They've also designed a number of responsive email templates that include a basic template, newsletter templates and one for including hero images. While their preferred email campaign client is Campaign Monitor, their templates will work with and have been optimized for several other email clients too.
---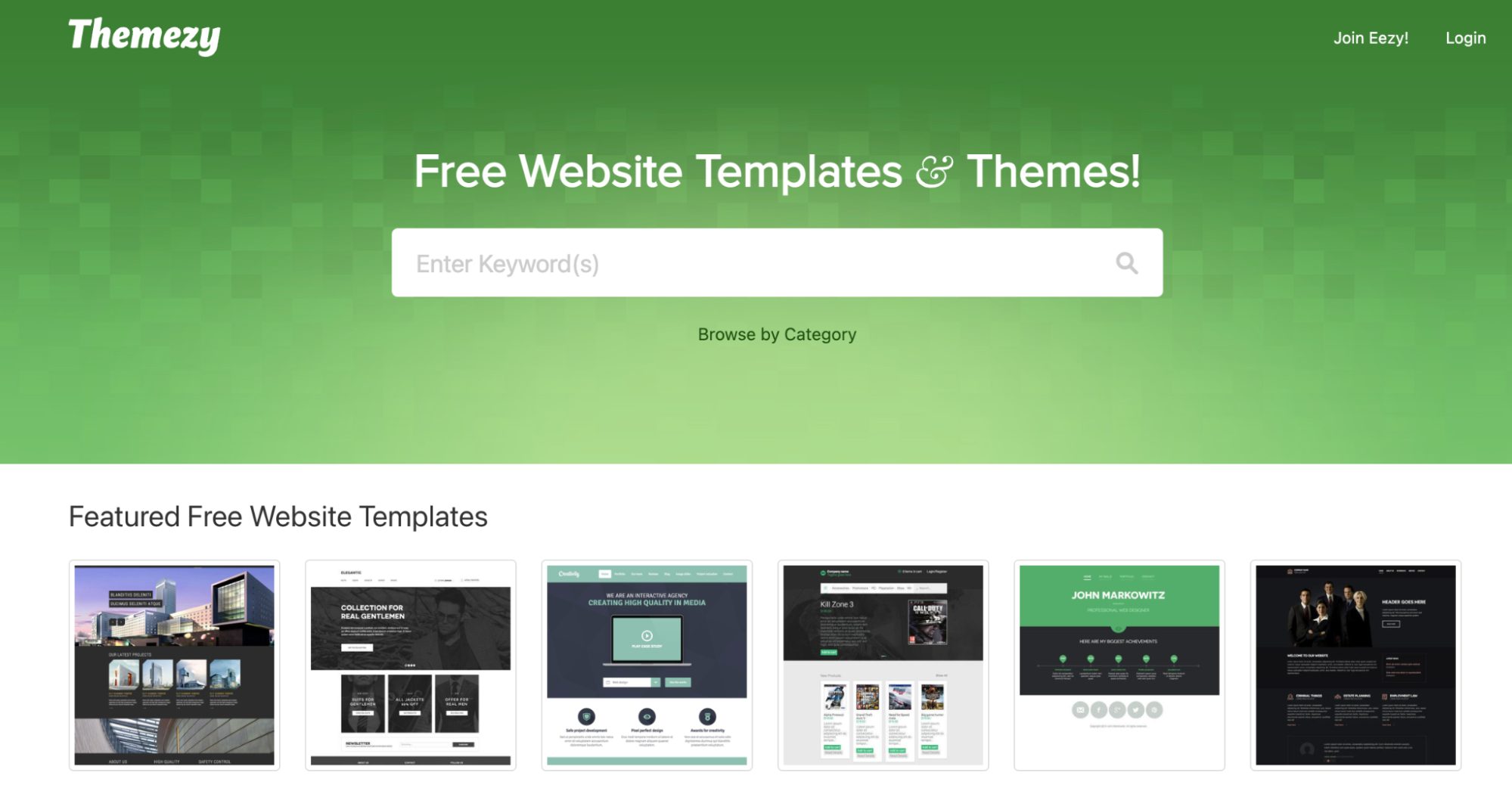 If you're searching for free website and email templates, you can check out Themezy. It's a place where artists can share their designs and users can download it for free. While its website is very basic, it shares just over 10 responsive newsletter templates that are worthy of adding to your Downloads folder.
---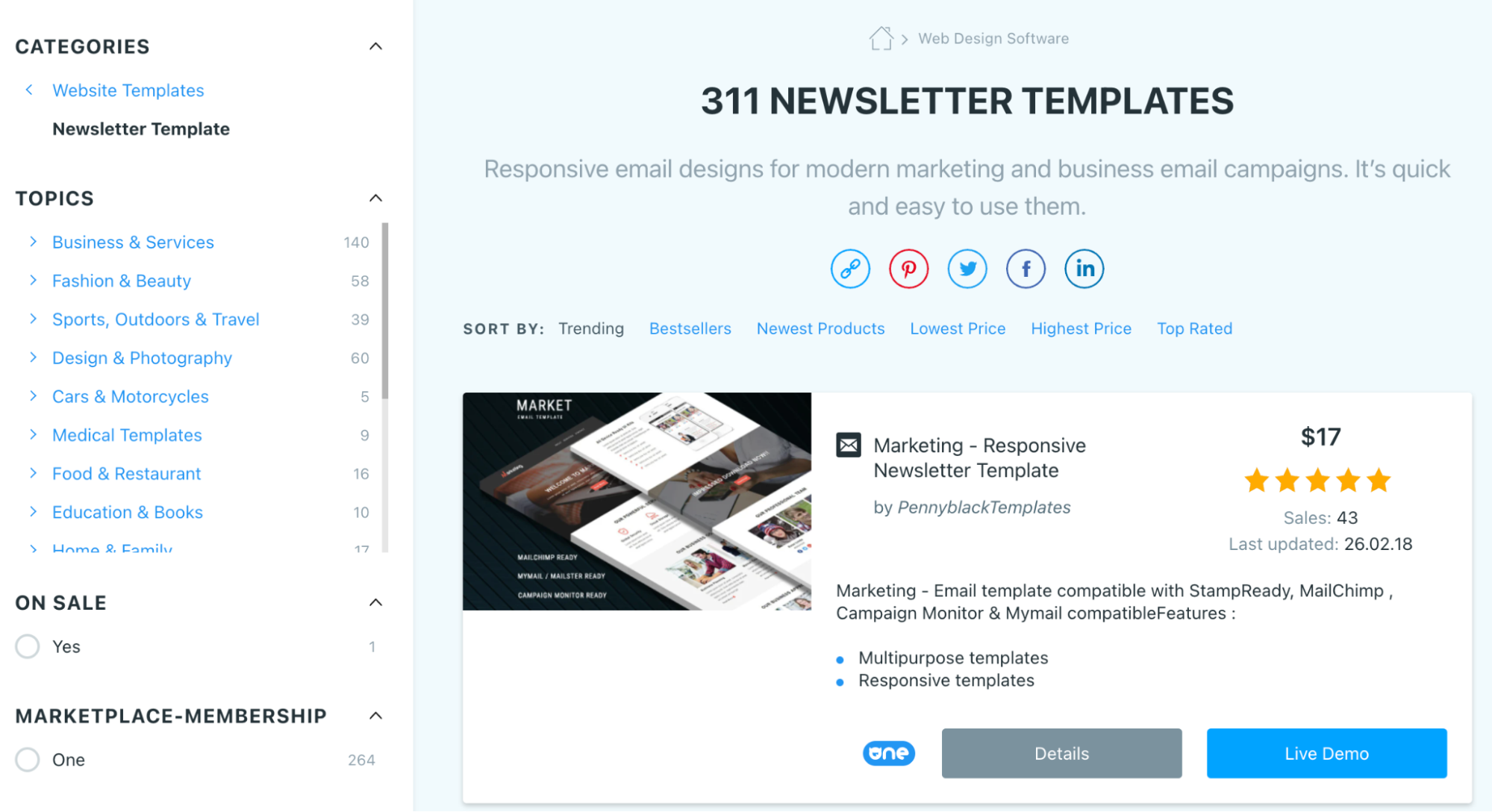 TemplateMonster is a digital marketplace for buying and selling digital products like plugins, templates, and other graphics. If you're searching specifically for email newsletter templates, they have a number for various industries that include travel, hospitality, and sports. Not only have they included various filters, like color, tags, and number of downloads, that you can use to refine your search further, but they also offer a detailed description of each template (something which often lacks).
Though, they don't have any free templates. All 311 of their newsletter templates are paid with pricing starting at $14.
---
Wrapping Things Up
Whether you want to dedicate your newsletter to advertising your personal blog or want to promote your holiday season deals, the right template makes it easy to get the message to your email subscribers. It's a powerful tool that you can use for just about anything.
Email layout alone can be tricky. Not only do you need to keep in mind your human readers, but you'll also need to ensure that everything displays as it should no matter which device is used.
Then, there's the design aspect too. You need to find a way to let all the different elements like high-quality images, action buttons, social media buttons, and color combinations come together seamlessly to create an attractive email that leaves only a memorable experience.
The best way to get this right is by using template designs. And, with the visual aspect out of the way, you can focus all your attention on finding valuable content – the actual reason for sending the newsletter in the first place.