We have previously looked at the creator economy. In recent times the internet has opened up new ways we can make money. We can take our hobbies and turn them into full-time paying jobs.
Some of this creativity manifests as content for the internet – the blog posts, videos, images, eBooks, and other creative content we find online. But creativity has expanded wider than that. You can "create" new clothing designs and sell them through an online marketplace. You can build courses to teach your skills to others. You can even cook and sell creative meals.
One of the things that has made all this creativity viable is the development of platforms and other online tools. In this post, we look at some of the creator platforms you can use to create, market, and sell your content.
---
50 Side Hustle Tools To Make More Money:
---
Category: Content Creator
Feather helps you make a living out of your passion. Quickly get started by building your custom page, creating live classes, and uploading on-demand content. Then you choose your video platform and set your price or make it free. You then build your audience by delivering your online content, automatically track attendance, and create an experience your audience will love. Continue to grow and engage your audience with your in-built email list.
---
Category: Content Creator
Ko-fi is a free platform where you can accept donations, subscriptions, and sales directly from fans. You can open your Ko-fi Shop and add your first digital or physical product in just 60 seconds. Fans can subscribe to you directly so you can build a regular income from your creative work. Reward your subscribers with exclusive content like posts, images, and videos. You can build a menu of creative commissions or offer personalized services like a custom tutorial or a video chat.
---
Category: Content Creator
Beacons helps you build a website that can keep up with your content. You can create a page to match your content and customize it in many ways. You can even add your content from YouTube and Spotify. Beacons is simple enough that you can start selling in 5 minutes. Sell eBooks, videos, and personalized shoutouts from your page just by linking a bank account or debit card.
---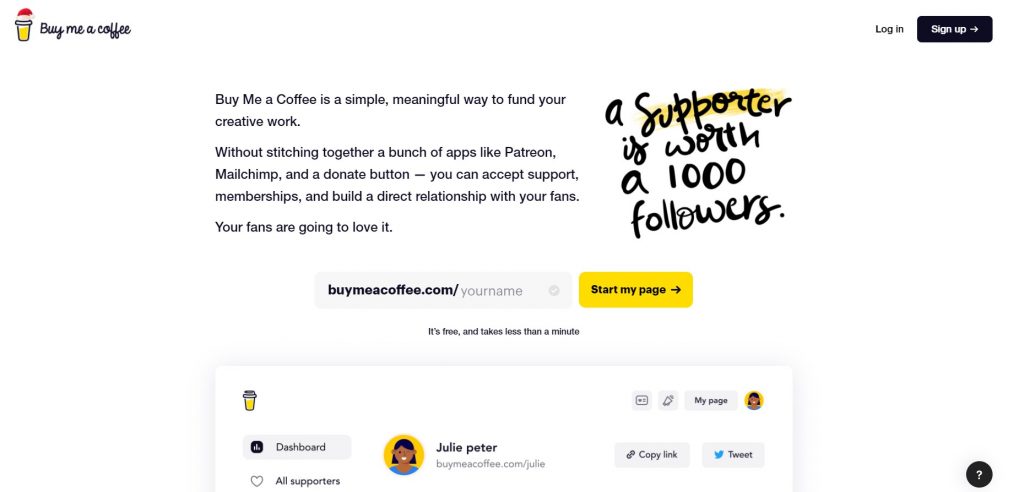 Category: Content Creator / Funding
Buy Me a Coffee is a simple way to fund your creative work. You can use it to accept support, memberships and build a direct relationship with your fans. In just a couple of taps, your fans can make you a payment (buy you a coffee) and leave a message. Earn a recurring income by accepting monthly or yearly membership. Share exclusive content, or just give them a way to support your work on an ongoing basis.
---
Category: Engagement
With Jemi, you can earn money by interacting with your fans. Sell anything from autographed merch, monthly fan group Zoom calls, video shoutouts, and much more. You can use Jemi to set up your all-in-one store that fits your personality and brand in minutes. Recently Jemi introduced Memberships. These allow you to provide your interactions to fans on a monthly payment basis, like a subscription, rather than a one-time payment.
---
Category: Content Creator / Funding
Patreon was designed to let your most passionate fans support your creative work via a monthly membership. You give your members access to exclusive content, community, and insight into your creative process. In exchange, you get the freedom to do your best work and the stability you need to build an independent creative career. It means that you can create what you want and what your audience loves. You don't have to conform to popular taste or the constraints of ad-based monetization models.
---
Category: Content Creator
With Scrollstack, you can set up an online space you own. You can use it to post articles, podcasts, photos, and videos. You can opt to make them free or charge for them. You set the price and keep 90% of it after credit-card fees. Within your space, you can design your homepage and brand. You control what your followers see. Scrollstack is intended to be user-friendly, and you can post with your phone in any language.
---
Category: Content Creator
Stereotheque empowers professionals and organizations of all disciplines involved in the Creative, Media, and Entertainment industries, to become more competitive, generate growth, and drive more business opportunities. It is a global network of creatives where you can connect with professionals and creative organizations. Every creative has their own set of gear and creative tools. They can showcase their multimedia projects and skills for efficient job placement.
---
Category: Content Creator
The Mango Jelly helps you create marketing content for brands and earn rewards. You can earn rewards by using your creative ideas. Brands use The Mango Jelly to develop competitions, encouraging creative people to create the best possible content. For instance, they offer caption competitions to source interesting text content for catchy headlines, taglines, social media posts, or product descriptions. Other types of contests focus on pictures, art, blogs, jingles, videos, infomania, or even a custom contest for something else a brand may wish to crowdsource.
---
Category: Livestreaming
Onyx provides ways for you to monetize your livestreaming. Viewers support you by playing mobile games. You begin by logging into Onyx and choosing a sponsorship game. Onyx provides you with a smart overlay to your streaming software. In turn, viewers download and play your sponsored game, and you earn money. Brands join Onyx as a way to get deep engagement for games. Onyx measures performance, manages negotiations, and processes payments.
---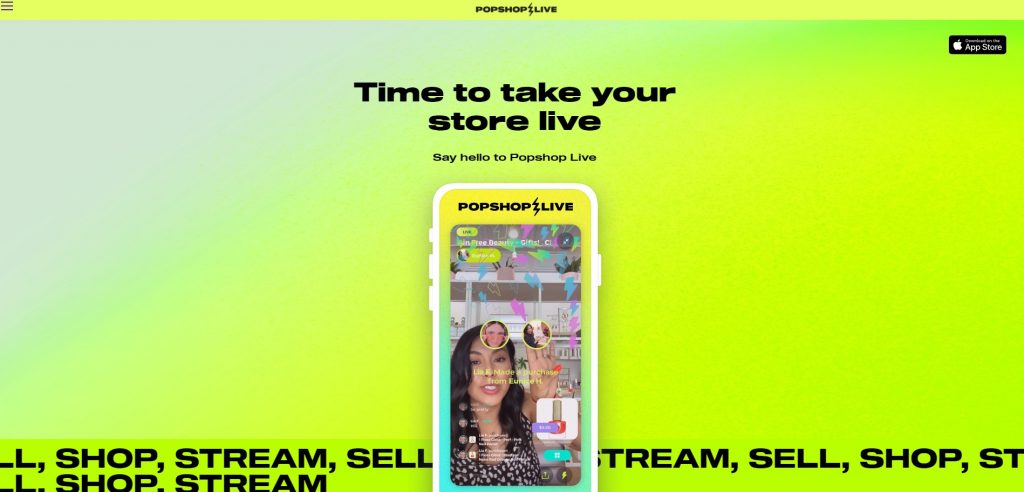 Category: Livestreaming
Popshop Live is for IOS only at this stage. It describes itself as "shop, sell stream." It offers an easy way for you to tell your product's story in a livestream. You can simply sell your creative endeavors – all you need is the confidence to present your product in a livestream. All sellers have access to sales and engagement stats immediately after each show that pop-up on their screen.
---
Category: Livestreaming
Tidze is a streaming platform built for performers and creators. Create a personalized channel, stream high-quality live and pre-recorded content, earn money from tickets, and grow a global audience. You can stream live or pre-recorded to a worldwide audience with HD video and high-fidelity audio. You can even create and sell access to a library of videos to watch on-demand. Tidze makes it easy for you to sell digital tickets for your virtual events. They continuously monitor every ticket to ensure it's only used on one device at a time.
---
Category: Content Creator
We have previously looked at OnlyFans in more detail. It is a subscription site that lets content creators monetize their influence. Creators lock their content behind a paywall, allowing fans access for a monthly fee or one-off tip. They can also have free pages where they then charge fans to access content via pay-per-view. Although best known for its porn content, other creators also run accounts there - artists, fitness instructors, chefs, and others who want to use the site to monetize their content.
---
Category: Digital Products
ConvertKit describes itself as audience building for creators. With ConvertKit, creators can easily share ideas, connect with an audience, and earn an income. You can test your ideas on your audience by creating sign up forms or landing pages in just minutes. You can use it to write great looking emails full of valuable content that helps you build trust and shows your expertise. Before long, you can turn the trust you have built into sales.
---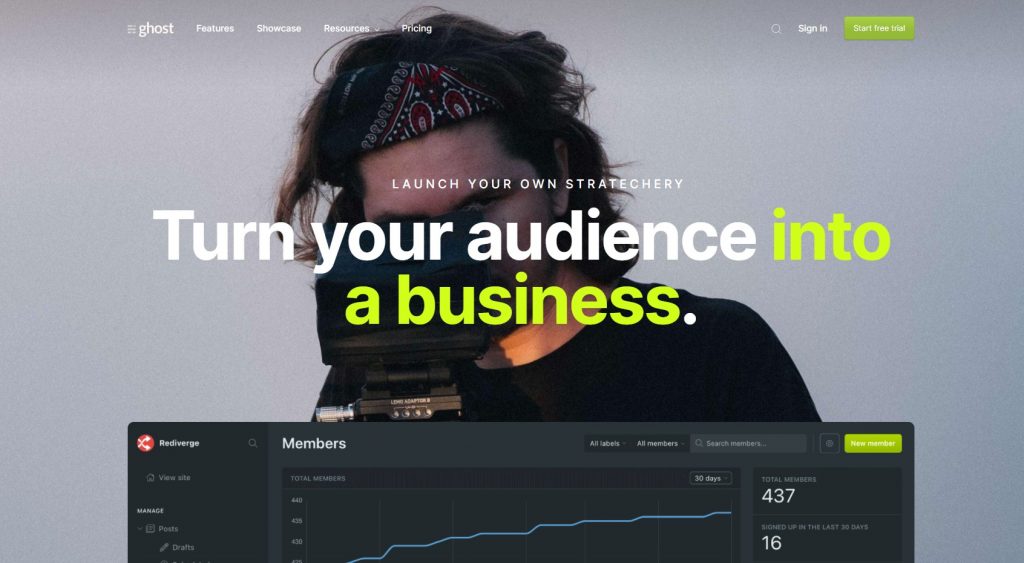 Category: Digital Products
Ghost is a full-stack, modern publishing platform. Use memberships and subscriptions to develop a direct relationship with your audience and generate predictable, recurring revenue to support your work. You begin by creating and sharing unique income and attract a loyal audience. As your followers grow, you can ask your audience to become customers, paying a recurring subscription to receive premium membership benefits. You continue to create a community to connect with your audience, discover what is important to them, and foster engagement.
---
Category: Writing
Revue is an editorial newsletter tool for writers and publishers. Monetize a loyal audience by using digital subscriptions, sponsoring, ads, or other business models. Start a standalone newsletter subscription with Revue's all-in-one membership solution or add newsletters to your subscription package. You can even take a commission on referrals to other sites, e.g., selling books or linking to Amazon.
---
Category: Writing
Substack describes itself as a place for independent writing. People can subscribe directly to writers they trust. Substack believes that writers, bloggers, thinkers, and creatives of every background should be able to pursue their curiosity, generating income directly from their own audiences and on their own terms. When readers pay writers directly, writers can focus on doing the work they care about most. Top writers on Substack make hundreds of thousands of dollars per year.
---
Category: Writing
Tales features original stories from acclaimed interactive storytellers. Its formats focus on text with imagery as a complement. Writers pick a text format: Prose or Dialogue with Portraits. You then pair your words with fiction's most extensive asset library. Backgrounds, characters, visual effects, sounds, and icons are easy to add to your story. Easily break up walls of text with different fonts and animations. Make money for each episode players read and any special content they unlock within each episode.
---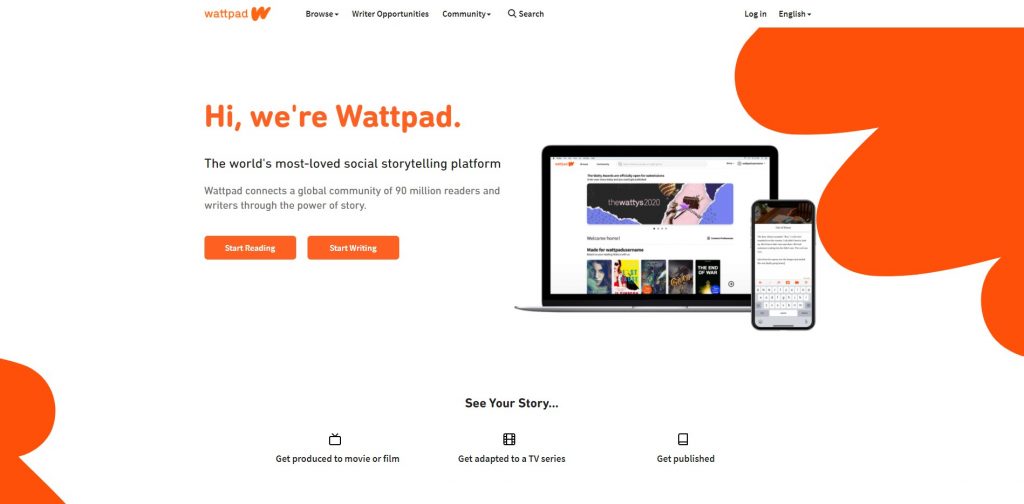 Category: Writing
Wattpad connects a global community of 90 million readers and writers through the power of story. Share your unique voice and original story on Wattpad. Find the writing resources you need to craft a story only you can tell. Establish a global fan base as your story gains readership and momentum. Connect with other like-minded writers through storytelling. Gain Wattpad Star status and get your story published or adapted into film or television with Wattpad Books and Wattpad Studios.
---
Category: Course Creator
Xperiencify is course creation software that embeds seven powerful psychological triggers into your course to increase student engagement and retention by 10-30X. Xperiencify has made it possible to hide unexpected bonuses and rewards throughout your course to hook students and reward them. The result of all these rewards is a powerful connection between your students and the content they watch or read.
---
Category: Podcasting
Anchor is an all-in-one platform where you can create, distribute, and monetize your podcast from any device, for free. It features easy-to-use creation tools. There are no storage limits, no trial period, no catch. It automatically distributes to Spotify, Apple Podcasts, Google Podcasts, and all other major listening platforms. You can record audio ads in your own voice and earn money whenever people listen to your podcast—no matter your audience size.
---
Category: Podcasting
Castbox Creator Studio makes podcasting easy. It includes free upload and storage. Castbox Creator Studio includes tools with robust podcasting analytics so that you can measure your subscribers, streams, and downloads. Castbox enables commenting, sharing, and other social features to engage your listeners and get you noticed. Also, Livecast is a free audio streaming service on Castbox mobile and desktop that allows you to go live with the tap of a button. Set up a public or private chat room to connect with listeners in real-time via voice and text.
---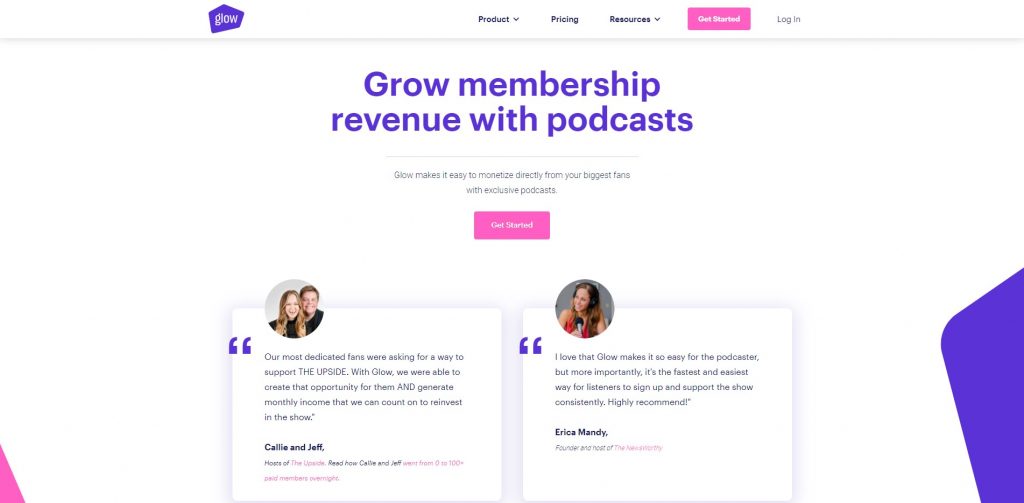 Category: Podcasting
Glow helps you grow membership revenue with podcasts. You can monetize directly from your biggest fans with exclusive podcasts. Listeners pay seamlessly with Apple or Google Pay and access your podcast in the player of their choice. You can use Glow's hosting built specifically for memberships or connect your membership with your current host.
---
Category: Podcasting
With Supercast, you can add a paid membership to your podcast. Share exclusive content with paid members and unlock sustainable, recurring revenue. You could opt to share ad-free versions of your podcast episodes with paying members via a premium feed. You can release new episodes to paying members first before releasing them to the public on your regular podcast feed.
---
Category: Audio Content
Avocado helps you sell audio courses and turn your knowledge into an education empire. Audio is the perfect complement to lunch breaks, doing the dishes, and walks. Record your audio and use Avocado's drag-and-drop platform to upload. Their iOS and Android apps make listening to your audio on the go an easy and enjoyable experience. Set your pricing to whatever you want. Avocado sends you the money when orders come through, even from international customers.
---
Category: Audio Content
Capiche.fm is phone calls, live-streamed online. You start a live stream. Capiche will call your phone number. Answer it—then once you go live, everything you say gets broadcasted live. Fans and friends can listen live online or call your show's phone number. You can chat and bring them on-air so they can talk, too. When you're done talking, hang up, and Capiche will publish your broadcast online and add it to a podcast feed if you want.
---
Category: Audio Content / Course Creator
Knowable is a first-of-its-kind audio learning platform and library of original, expert-led audio courses. They create immersive, screen-free learning experiences that help people get inspired, learn new things and accomplish their personal and professional goals. Knowable courses are led by respected creators and experts at the top of their fields. Showcase and monetize your unique expertise in their elite catalog of hand-picked courses.
---
Category: Audio Content / Training
Simple Habit is a mindfulness app offering audio meditations as short as five minutes. Their mission is to empower humans to stress less, achieve more, and live better. They are always looking to expand their teacher network and could be a viable opportunity for creators with meditation training experience and a teaching background. Simple Habit brings top meditation and mindfulness teachers, licensed psychologists, and coaches from all over the world and puts them together on a single platform.
---
Category: Audio Content
Spoon features audio livestreaming—stream in real-time, with just your voice. You can become a creator with just one click. Spoon has a mission to connect the world through sound. They are building a community where you can talk freely and share various stories with people who are just like you.
---
Category: Audio / Video Content
Tingles offers sleep and relaxation videos by the World's biggest ASMR artists all in one app. They currently have more than 1,500 amazing creators. Exclusive videos and carefully curated playlists are designed by sleep and relaxation professionals, with new videos being released daily.
---
Category: Course Creator
CreativeLive's mission is to champion creators to live their dreams. It offers classes covering a wide range of crafts. Their library currently consists of more than 1500 classes on-demand. Their staff has hand-picked 700+ master creators. They have recently introduced CreativeLive TV – a free, 24/7 variety show, live-streamed from the living rooms, studios, and kitchen tables of renowned, creative icons.
---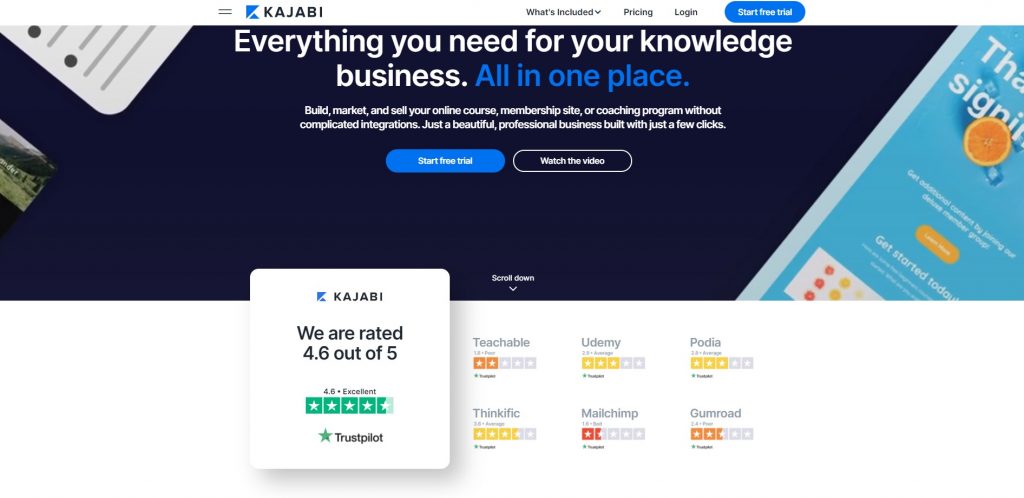 Category: Course Creator
With Kajabi, you can build, market, and sell your online course, membership site, or coaching program with no coding, no hiring, no learning curve, no plugins, and no broken integrations. You can access your website, products, marketing, community, and more from a single dashboard. Kajabi offers integrated subscriptions, courses, and digital products. In minutes you can take your ideas and turn them into a polished, high-value product.
---
Category: Course Creator
Podia helps you turn your passion into income. It offers everything you need to sell online courses, webinars, downloads, and memberships without worrying about the tech. Podia's online course platform has all of the features you're looking for. Host unlimited files, offer payment plans, quizzes, drip content, upsells, and more. Sell digital downloads of any kind, including eBooks, audiobooks, PDFs, cheat sheets, checklists, video files, audio files, and text. Create a variety of membership levels with different perks, products, and prices. Host webinars for your audience. Sell your webinars or give them away for free to build your email list.
---
Category: Course Creator
Skillshare offers classes taught by real creators. They consider their teachers to be icons, experts, and industry rock stars excited to share their experience, wisdom, and trusted tools. Take classes on the go with the Skillshare app. Stream or download to watch on the plane, the subway, or wherever you learn best. Skillshare teachers are real working creatives and experts eager to share their expertise. If you're an experienced creative pro with tips, techniques, and skills to demonstrate, they offer an extensive suite of resources and responsive support to help you create classes that inspire. Top earning teachers make $100,000+ each year.
---
Category: Course Creator
Teachable helps you to transform your know-how and experience into a thriving online course business. Build a course, build a brand, build a business. More than 100,000 creators have sold over $500 million in courses and coaching. In a matter of minutes, you have access to everything you could ever need to create and sell online courses and coaching. Show off your brand's unique POV using Teachable's customization tools to curate and personalize your content.
---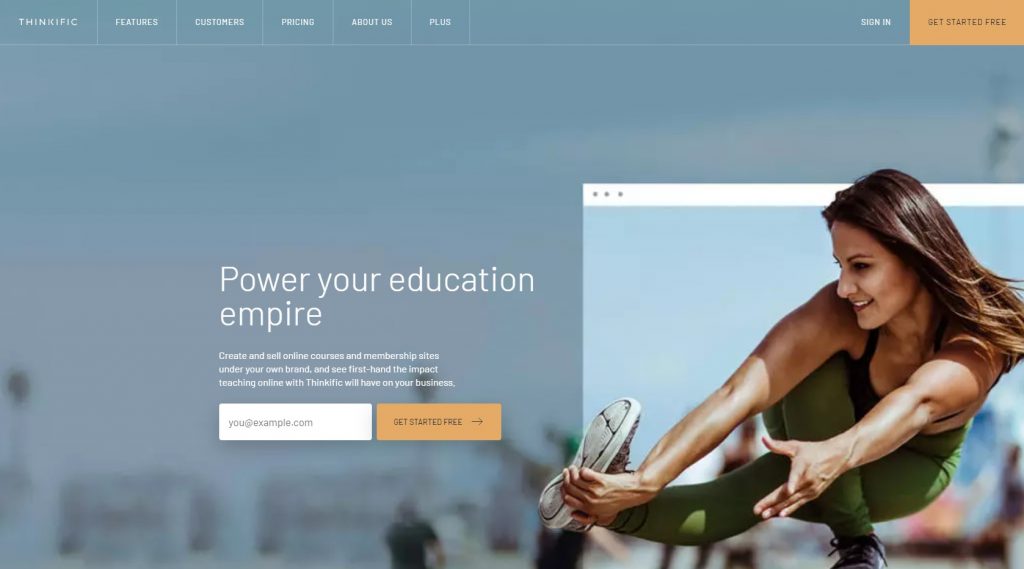 Category: Course Creator
With Thinkific, you can create and sell online courses and membership sites under your own brand and see first-hand the impact of teaching online. Thinkific's powerful, all-in-one platform makes it easy to share your knowledge, grow your audience, and scale the business you already love. It includes everything you need to run your education business under one roof.
---
Category: Event Organizer
Eventbrite helps you connect through online events. It gives you everything you need to take your event to the next level. Create a professional, seamless experience for your attendees at every stage of your event. This includes robust ticketing solutions, customizable event pages, and a checkout where you need it. Spread the word with targeted email campaigns, launch social ads, and share tracking links. Reach their global community of millions of eventgoers in 170+ countries searching for things to do on Eventbrite. Engage fans in creative new ways, from webinars and livestreams to online classes and workshops.
---
Category: Event Organizer
Happily considers itself the largest and most diverse network of independent virtual event specialists in the world. Happily creates world-class event productions in record-breaking time. They specialize in virtual conferences, webinars, and engaging activities. To launch an event, they activate specialists from talent management, livestream production, web development, media production, and design.
---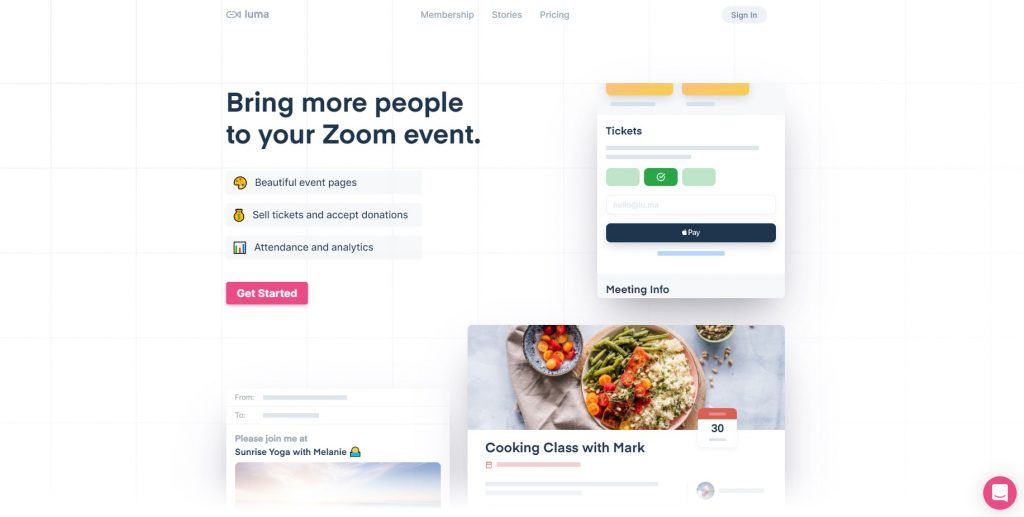 Category: Event Organizer
Use Luma to bring more people to your Zoom event. Create and customize an event page with a cover photo, registration questions, payment, and more. Send beautiful invites with calendar events—schedule reminders. Luma will take care of the Zoom settings. Sell tickets to your event. Choose from a fixed ticket price, a sliding scale, or donations. Get paid for your events easily, securely, and instantly.
---
Category: Event Organizer
Offsiter calls itself the most trusted marketplace of team building activities, offsite venues, and company retreats. They help people have meaningful offsite experiences. Offsiter's network of trusted partners spans the globe and allows them to offer team offsites, company retreats, management retreats, and more throughout the world. Offsiter launched in 2017 in Santa Cruz, California. It continues to expand throughout California and is now adding locations across the globe.
---
Category: Gaming
Nexus helps you build your very own game store. It enables you to turn your content stream into an income stream. Nexus is for content creators. With Nexus, you'll have access to all the tools needed to transform your influence into a reliable source of income. Build a hub for your online presence and combine all of your content into one streamlined platform. Give your fans a central place to find your content, see your favorite games, and support your brand. Earn sustainable profits without product promotions or affiliate programs. Take advantage of platform-exclusive discounts on your favorite games.
---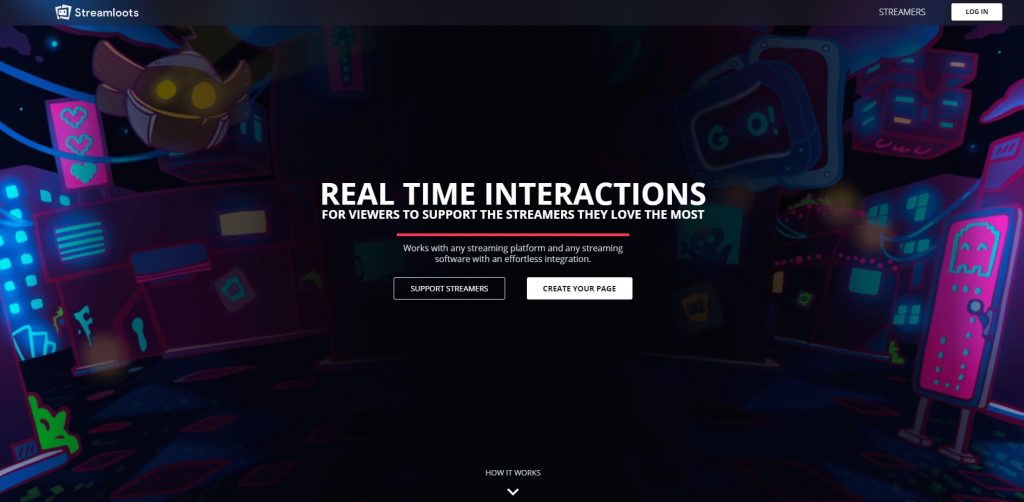 Category: Livestreaming
Streamloots offers real-time interactions for viewers to support the streamers they love the most. It works with any streaming platform and any streaming software with an effortless integration. Streamers just need to integrate Streamloots as a browser source and create thematic card collections to share with viewers. Viewers support streamers by purchasing their packs and getting their cards. Every card can represent an action from the streamer or just a voice for the viewers.
---
Category: Reseller
Curtsy is a buy/sell app for cute clothes. Selling on Curtsy is easy! Posting takes just a minute: add pictures, describe the item, and set your price. They even suggest a price to make it easy. You can sell most types of women's clothing that are in new, like-new, or excellent condition with no stains or damage. So if your creativity involves fashion, Curtsy may make a perfect marketplace for you.
---
Category: Reseller
Depop is a marketplace to buy, sell, and discover unique fashion. It is the fashion marketplace app where the next generation comes to find unique items. With a global community, buying, selling and connecting to make fashion more inclusive, diverse, and less wasteful. This is what transforming fashion looks like. Sell a few items or build your empire.
---
Category: Reseller
GOAT is a marketplace where you can buy and sell sneakers, apparel, and accessories. They call themselves the global platform for style. Potential buyers can make offers on your most-wanted styles. The company can surface styles from the past, present, and future, delivering authentic products to over 20 million members across 164 countries. To ensure quality and authentic items, they only allow a select group of sellers. They encourage you to request to become a GOAT seller by tapping on the Sell tab on the app and filling out the required information.
---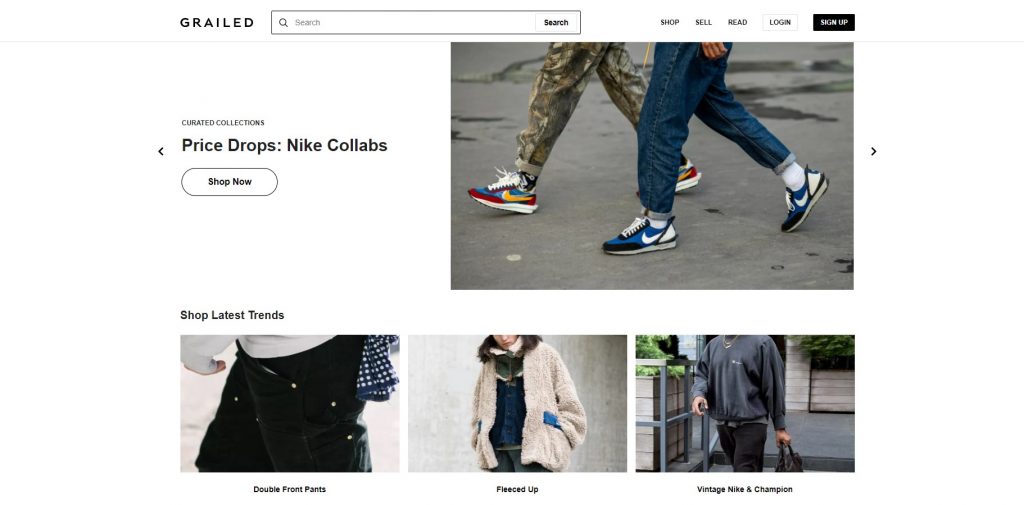 Category: Reseller
Grailed is the one-stop destination for buying, selling, and exploring menswear. You can easily sell items on Grailed. Make sure you upload at least three high-quality photos of your products. You can select from one of four markets: Grails (for high-end designers), Hype (for highly anticipated new releases), Sartorial (for high-end classic menswear), and Core (for mainstream brands).
---
Category: Reseller
With Poshmark, you can buy, sell, and discover fashion, home decor, beauty, and more. Poshmark is more than just a shopping destination. It's a vibrant community powered by millions of sellers who not only sell their personal style but also curate looks for their shoppers, creating one of the most connected shopping experiences in the world.
---
Category: Food
If food is your creativity specialty, then Foodnome is the first legal marketplace for home-based restaurants. They support chefs by providing necessary resources and tools to start thriving businesses from their home kitchens. You can receive 100% of all your sales through their easy-to-use digital ordering system. Foodnome takes care of your permitting, insurance, and marketing support so you can focus on the cooking.
---
Category: Food
Shef provides a marketplace where people can buy authentic homemade dishes delivered. A potential customer simply chooses a "shef," picks a dish, and then awaits its delivery. Unlike restaurants, you know precisely who is preparing your food. All shefs undergo extensive food safety training and must wear masks, gloves, and hairnets when preparing food. Launching your own food business has never been easier.
---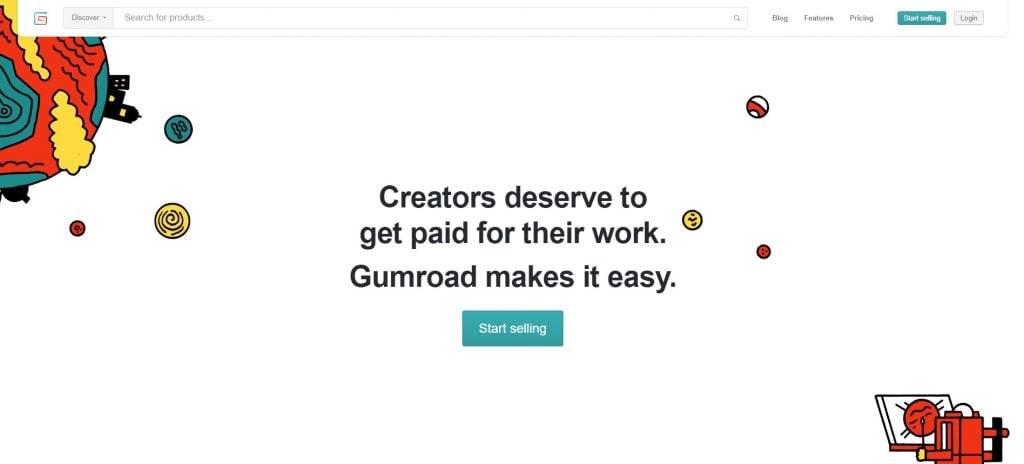 Category: Marketplace
Gumroad makes it easy for creators to get paid for their work. Since 2011, 77,218 creators have earned over $378,202,412. You can build your audience with Gumroad. They have the tools to engage with an audience that cares about you and your work. You can personalize your landing page to your heart's content. You can easily import your existing email list and export your followers and customers at any time. Give your customers discounts on your products with full flexibility. It includes an easy checkout. Your customers can pay with any major credit card and PayPal. You can sell both digital and physical products.
Frequently Asked Questions
What makes Patreon good?
Patreon was created to allow creators to share access to exclusive content to their most passionate fans by means of charging them a monthly membership. What makes this tool so great is that it gives creators the freedom to create what they want to create and what their target audience will enjoy. In other words, they do not have to conform to popular taste or the limitations of ad-based monetization models in order to gain the stability they need to build an independent creative career.
How can brands encourage their audience to create content?
Brands can, for example, use The Mango Jelly to develop competitions that will motivate creative people to create marketing content. In short, a brand can use it to offer a competition to source interesting written content for social media posts, headlines, product descriptions or taglines.
Who can use OnlyFans?
While OnlyFans is best known for its porn content, there are many other types of content creators who also have accounts on OnlyFans. These include artists, chefs, and fitness instructors who use the subscription site to monetize their content.
How can you sell audio courses?
You can check out Avocado. With this platform, you can sell audio courses by recording your audio and using their drag-and-drop feature to upload your content. You can also set your pricing to whatever you want. Avocado will send you the money when orders for your audio course come through. Avocado is available as an iOS and Android app. All in all, it is an enjoyable experience that even allows you to reach international customers.
How can I make money via podcasting?
You can check out tools like Supercast and Glow. With Supercast, you can add a paid membership to your podcast in exchange for access to exclusive content. You can also use it to create ad-free versions of your podcast episodes with paying subscribers by means of premium feed. Glow works similarly. Subscribers can pay seamlessly with Google Pay or Apply to access exclusive podcasts.