Social commerce is one of the fastest-growing online shopping trends. And, while it's part of the eCommerce umbrella, you'll see in the social commerce guide that it's very much its own beast. In this guide, we'll cover important questions like what is social commerce, what are the benefits of social commerce, which platforms support social commerce, and more. We're also going to include social commerce tips and tactics you need, social commerce trends, and even share a few examples of social commerce from brands who implemented it with great success. Let's dive in!
---
Social Commerce Guide: Everything You Need to Know for 2022:
---
What Is Social Commerce?
Social commerce is online selling that takes place on social media platforms or other platforms that have a social aspect. Instead of being sent off-platform to the retailer's online store to complete their purchase, social commerce shoppers are able to complete their purchases right on the social media platform. This means that the entire shopping experience—from browsing to checkout—takes place on social media, leaving the eCommerce site out of the mix entirely.
---
Benefits of Social Commerce
Not sure social commerce is right for your eCommerce business? Here are just a few of the benefits of social commerce so you can decide for yourself if you want to give it a try.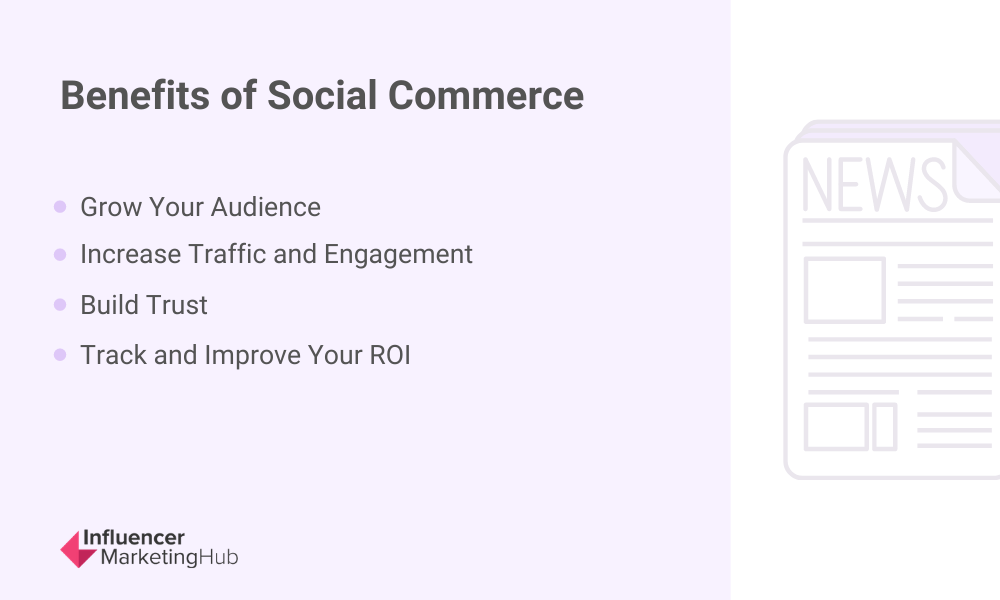 Grow Your Audience
Social media platforms, particularly those that offer social commerce options, have enormous user bases. This makes it much more likely that your target audience is on the platform, just waiting to find your products or services. When you use social commerce options, you improve the chances that those consumers will complete a purchase by reducing friction and providing a seamless buying process.
Increase Traffic and Engagement
Social commerce can also help you increase traffic and engagement since users can connect with your brand quickly and easily. This is important because as your brand reaches more and more potential customers, you're going to make more sales and earn more money (assuming that your conversion rate stays the same). It also makes it a lot easier for shoppers to share your content with other people who might be interested in making a purchase.
Build Trust
When customers can reach your company easily, they're more likely to trust your brand. Plus, social media is typically much more personal than an eCommerce site, giving users the chance to really get to know your brand's personality and what you're passionate about. People want to buy from brands they're familiar and comfortable with, so social commerce can have a real impact on increased sales through increased trust and familiarity.
Track and Improve Your ROI
Social commerce can offer a great return on investment. To get the most from your social commerce strategy, it's important to track your social media metrics. Fortunately, most of the larger social media platforms have built-in analytics tools so you can monitor your social commerce campaigns and make the necessary adjustments to get better results.
---
What Platforms Support Social Commerce?
Where does your target audience hang out online? Chances are, you'll find your audience in at least one of these platforms with social commerce functionality.
Instagram
According to Instagram's own research, 81% of the platform's users use the platform to research products and services. Plus, more than 130 million users tap on shopping posts each month. Since so many users are looking for ways to connect with and shop from brands on the platform, it just makes sense to leverage the platform's social commerce features. You can sell on Instagram in several different ways:
Shoppable Posts:

Tag products in your images so users can shop just by tapping on your post.

Shoppable Stories:

Tag products in your Stories to make it easier for followers to shop directly from your content.

Product Stickers:

Add clickable shopping stickers to your Stories.

Explore Tab Shopping:

Optimize your content for the Explore tab so users who find your content can shop easily.

IGTV Shopping:

Tag shoppable products directly in your IGTV videos.

Instagram Reels Shopping:

Tag products in your Reels.
To sell on Instagram, you need to have an Instagram Business account connected to a Facebook page. In addition, you need to sell physical products in an approved location and, of course, comply with Instagram's terms and conditions.
Facebook
Facebook Shops let you connect with customers and potential customers through Messenger, WhatsApp, or Instagram Direct. It's a mobile-first shopping experience that lets eCommerce business owners create a social commerce store for free. Facebook Shops are fully customizable, letting store owners import a product catalog or create one on the platform.
TikTok
TikTok is one of the newest social media platforms out there, but it's grown quickly into an influencer marketing powerhouse. In February 2021, TikTok launched Seller University (testing in Indonesia). The platform is seeking to add additional ways users can monetize the platform through selling their own products on-platform (instead of sharing links that take users off the platform to complete purchases, as is the current method). There will also be an option to sell as an affiliate for influencers who focus on affiliate marketing to earn money.
Pinterest
Pinterest has long been used for shopping inspiration and for business accounts it can also be used for shopping completion. With Product Pins, businesses can show pricing and stock information for products from your Pinterest Shop. You also have the option to upload your product catalog to the platform and even use a really cool Shop the Look feature that shows all the products in a Pin that makes them available for purchase.
Snapchat
Snapchat uses augmented reality (AR) to let users "try on" shoes and clothing, as well as see how particular products might look in their homes. While Instagram has a try-on feature for makeup and sunglasses, the innovative use of AR puts Snapchat ahead of the game here.
Twitter
Twitter has had shopping options for years. They've made adjustments to social selling on the platform over time. The most recent iteration, Twitter Offers, lets advertisers create promotions and share them with Twitter users or even shop products without leaving the app.
---
Social Commerce Guide
Now that you have a strong grasp on what social commerce is, let's get into the meat of our social commerce guide. In this section, we'll be sharing tips, tactics, trends, and examples you can use to build and grow social commerce for your business.
Social Commerce Tips and Tactics
Here are some of the top social commerce tips and tactics you can use right now to get started with social commerce or improve your social commerce strategy.
Optimize Your Content
If you've done any marketing, you already know the importance of optimizing your content. This is vitally important for social commerce where you're competing with hundreds of thousands of other creators on social media platforms for the attention of consumers. There are several things you'll want to do to ensure that your content is optimized for the platform and audience you're targeting:
Images:

The vast majority of the time, you're going to want to use vertical images. Most social media users access the platforms from their phones, so keeping your content vertical means they won't have to turn their phones sideways to get your message.

Videos:

Video content for social commerce should fall somewhere between six and 15 seconds.

Text:

Copy for your social commerce content should be short. Try 100 characters or less for headlines/titles and no more than 500 characters for descriptions.

Captions:

Use captions to increase accessibility and reach users who watch content with their volume turned off.

Filters:

Use filters to make your product stand out, but don't use so many that users aren't sure what they're supposed to be looking at.

Logos:

Include your brand logo. And don't hide it in a corner where it will get covered up with other information.

Location:

Use multi-language support to reach users in their own language.
---
Promote Your Lower-Cost Products
You probably have tons of wonderful products that you want people to consider, right? That's awesome. But don't overwhelm users with endless options. Pick your top few bestselling or low-cost products to get started. The lower the barrier to entry, the more people will respond by completing a purchase.
---
Use Influencers
If you're not already using influencers to promote your products, what are you waiting for? Influencers are a powerful way to reach your target audience and increase trust in your brand. You can use influencers to create native ads, organic content, provide product reviews, and more.
---
Generate and Use Social Proof
Social proof is a very important part of any marketing strategy. Consumers want to know that other people, people just like them, are buying and using your products. When you can collect and share social proof like reviews, testimonials, statistics, results, and other things that let shoppers know that your products are effective and beneficial, you'll be able to reach more people and earn their trust a lot faster.
---
Extend Your Reach
Social media is excellent in terms of the number of people you can reach. And, the more people you reach, the more people become aware of your brand and your products. Extending your reach involves three things:
Growing your social media followers

Optimization of your content

Promotion of your content
---
Social Commerce Trends to Watch
The social commerce tips and tactics above will help you build a baseline social commerce strategy, but that's not where you should stop. There are also some social commerce trends that you should incorporate into your strategy.
---
Shoppable User-Generated Content
User-generated content (UGC) is simply content created by users instead of by brands. But that doesn't mean brands can't take that content and make it work for them. Once you have permission to use UGC, you can use that content to create shoppable posts by adding product tags.
---
Micro-Influencers
More followers isn't always better when it comes to the types of influencers you use for your social commerce campaigns. Micro-influencers, those with 10K–100K followers, are a strong tool you can use to promote your products without spending the money you'd need to lay out for influencers with more followers. Plus, micro-influencers tend to get great engagement—influencers with fewer than 35K followers get the highest engagement rate (5.3%). If you're a brand with a limited marketing budget, the tradeoff between engagement and reach is a good one.
---
Shoppable Live Streams
Think of shoppable live streams as the next iteration of webinar sales. What we love most about shoppable live streams is that you don't have to just use a single link (and sell a single product). Instead, you can use multiple links that will show up as the live stream host talks about different products. And, shoppers can make purchases while they're watching.
---
Video
Okay, video always ends up as a "trend," but really video marketing should just be the go-to at this point. Video is hot. It's versatile and can help you convey tons of meaning in just a few seconds. Plus, videos sell. According to research by Tubular Insights, 64% of consumers will make a purchase after watching branded videos on social platforms. So, if you're not using video, get started.
---
Messenger
According to Facebook, 20 billion messages are exchanged each month between consumers and businesses on the platform. Think of what it could mean for your bottom line if you were able to convert a fraction of the people you engage with on Messenger. And, to make it even easier, there are several very cool chatbot platforms that you can connect to your Facebook Messenger to build a powerful Messenger marketing process.
---
Social Commerce Campaign Examples
We've done a lot to convince you that social commerce works, but now it's time to get into actual examples. Here are three of our favorite social commerce examples. These are just a small sampling of the success brands have seen with social commerce.
Jordan
The Jordan sneaker brand used Snapchat for a social commerce campaign that resulted in the shoes selling out on the platform. Snapchat users at an afterparty event were able to scan exclusive Snap codes that let them complete a purchase.
Levi's
The beloved denim brand Levi's was one of the first businesses to use the Shop Now feature on TikTok. TikTok users could just tap the button and be taken to a product or checkout page on Levi's website. Levi's worked with four influencers using Levi's Future Finish 3D technology to build their social commerce campaign. The brand got double the average TikTok video view time and more than double the page views for the related products.
PinDuoDuo
PinDuoDuo was able to raise $1.6 billion using social commerce. PinDuoDuo is a social commerce app for the Chinese marketplace and is designed to leverage the power of social media and group buying to increase shopper discounts. This results in increased engagement since more people will share offers with their networks in the hope of getting a better deal.
---
Wrapping Up
When you consider that 90% of consumers will buy products from a brand they follow on social media, your brand really can't afford not to engage with social commerce. With the information in this social commerce guide, you have everything you need to build a solid social commerce strategy that you can then tweak and adjust to ensure the best ROI.