Best for:
Small, Medium, and Large Brands, Agencies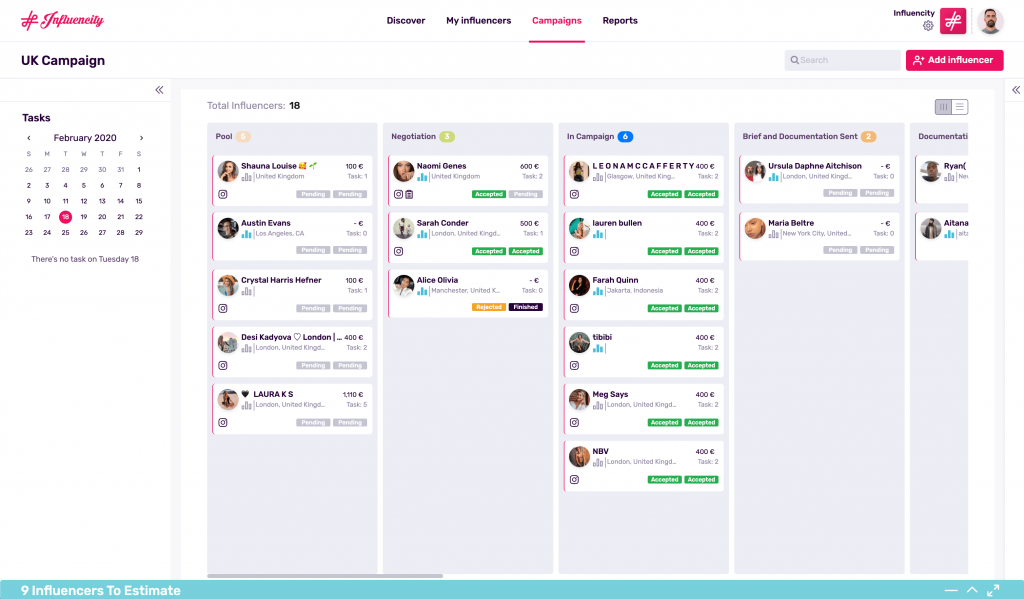 In 2014, influencer marketing was a whole different scene. How different? Let's put it this way: when Influencity started up in November of that year, its focus was on connecting brands with some of the most influential people….on Twitter.
Yes, long before Instagram was the platform for brands to be seen—and before Twitter essentially became the unofficial customer service channel for major corporations—influencer marketing was growing and thriving, 140 characters at a time. Of course, these days the landscape is far different (see: the earlier comment about Instagram being the platform), and Influencity has evolved right along with it.
First and foremost is the platform's shift in focus. In the early days, CEO Daniel Sanchez described Influencity's hook as "a system of automatic publication of tweets written by influencers." It was a good way to go, maybe, back then when Hootsuite and dozens of other companies were doing the exact same thing. Really, the novelty in 2014 and 2015 was the ability to find compatible and relevant influencers to represent brands. And that's the big feature that Influencity's heavily leaned into, to excellent effect.
Discovery with Influencity relies on Instagram data now—and on a mass scale. There are currently over 55 million Instagram accounts indexed within the platform. With that many profiles, you'd be forgiven for assuming that the profiles are light on information. But that's where Influencity's novelty lies these days: an incredible amount of data on an even more incredible number of influencers.
It's a long way from where Sanchez & company began—in 2014 with "about 100 influencers" on Twitter to choose from. The depth of what you can learn about influencers and their audience is remarkable. Add to this a campaign management module and in-depth reporting, and you can see why Influencity appeals to brands like Samsung and Kellogg's and agencies like Dentsu and WPP.
---
Influencity Review:
---
Pricing
You can see from both Influencity's pricing and the way they structure it that they're trying to appeal to clients both large and small. Customers can personalize their own plan by selecting the features that suit them best by creating a Custom Bundle. Customers can also choose from the Fixed Plan options that are available at:
Starter: $48/mo

Basic: $98/mo

Professional: $298/mo

Business: $698/mo
Like many SaaS platforms, there are multiple levels of subscription that run the gamut of features:
Starter — One user can run unlimited searches and discover up to 1,500 results per month, save up to 25 influencers, analyze up to 10 profiles per month, fraud detection feature.
Basic — One user can run unlimited searches and discover up to 5,000 results per month, save up to 100 influencers across 1 list, analyze up to 25 profiles per month, fraud detection and audience overlapping features.
Professional — 3 users can run unlimited searches per month and discover up to 10,000 results per month, save up to 300 influencers across 100 lists, analyze up to 75 profiles per month, fraud detection and audience overlapping features, manage 5 campaigns (more features), and run 5 campaign reports (50 post analysis per month)
Business — 5 users, unlimited searches and discover up to 20,000 results per month, 1,500 influencers across 100 lists, analyze up to 150 profiles per month, fraud detection and audience overlapping features, manage 20 campaigns with all features, run 20 campaign reports (150 post analysis per month).
Anything larger than that can be customised per requirements or by creating a Custom Bundle.
---
The Details
With what can only be referred to as an overwhelming amount of data, navigating Influencity's discovery module could have easily been a hot mess. It's a testament to the design of the interface that simply isn't the case. From applying filters to your search all the way to digging deep into an influencer's profile, there's never a point where anything becomes too confusing or oversaturated.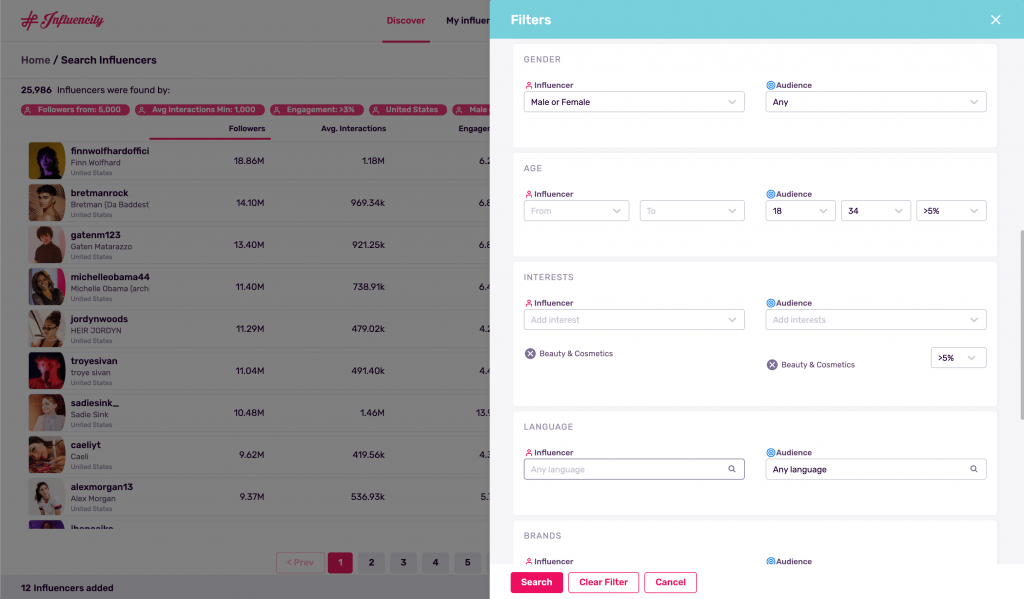 Running through your search filters, you'll see an abundance of options to choose from. You can select basic demographics like gender, age, and location, but you can also dive into psychographics like interests and brand affinities. And for any of these, you can apply the filter to them, their audience, or both. Influencity's marketing claims that there are over 100,000 ways to combine filters in order to find the most relevant results. I'm not good enough at math to prove or disprove this assertion—how do you figure out the number of combinations, anyway?—but I've seen enough of the platform to say that this claim is entirely believable. There are just so many different filters to apply, and each one has a range of options within it.
But there's also an easier way to go about things, and that's doing a lookalike search. Other platforms can do something like this, but not as precisely as Infuencity. That's because the platform judges the similarities based on the influencer, her content and audience data, but still leaves some wiggle room for other filters. Maybe you want someone who's got similar interests to Kim Kardashian, and who has similar types of people in the audience—but on a micro-influencer level with higher engagement rates. The lookalike search lets you do that, and saves you time in the process. You only have to identify one perfect influencer and then let the platform do the rest for you.
Results, too, are easy to make your way through. You're not just presented with a list of influencers and some top-level stats/metrics. The top of the results screen presents you with a reminder of the filters you applied, while the list of influencers matching your query also shows how they line up with what you asked for. You wanted at least 50% female audience? The results show you the exact percentage of females. You wanted at least 10% to be interested in Beauty & Cosmetics? The results will show you that, then.
Once you've sorted through your results and saved the profiles of influencers you're interested in, you'll find that the IRM module gives you more than just a way to organise influencers into lists. You can do a deep dive into any of the influencer profiles for information on their audience quality, performance metrics, brand affinities, and audience data, but what's really impressive is the way that information is aggregated at the group level. If you've saved 15 influencers to a certain list, it's a helpful window into what they bring to the table as a group, including their earned media value.
Likewise, when you have a group of influencers added to a campaign, the platform can easily give you a holistic look into the group as a whole and estimate how they might perform for the campaign.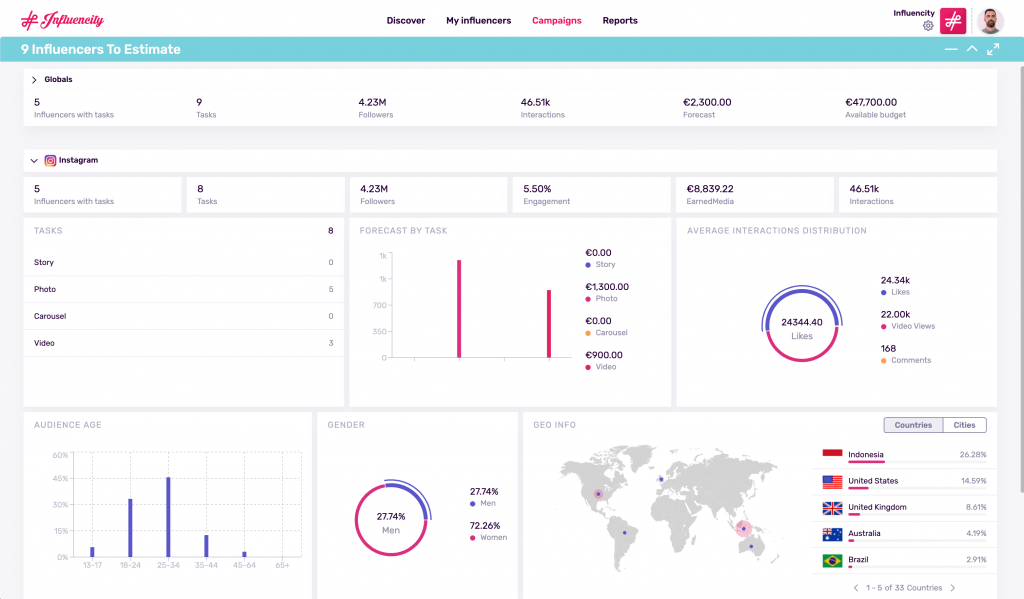 Of course, will all the data that's available upfront means that there's just as much valuable information on how your campaigns and influencers performed. Just like discovery, you can slice and dice the data in a number of ways, all of which ultimately answers the really important question: what did you get for your money?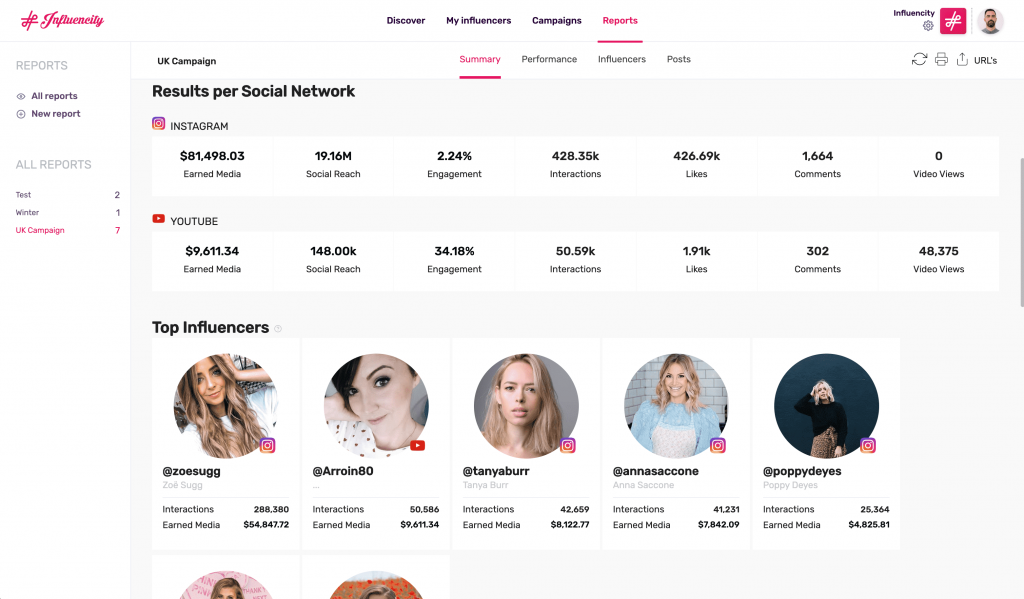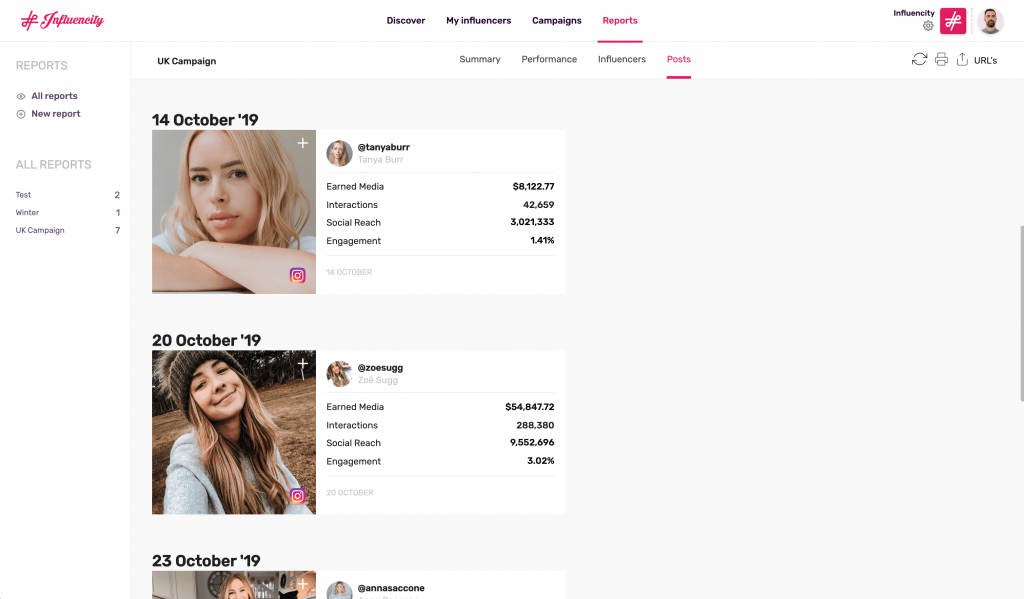 As you dig into the performance of each influencer, you'll get a clearer picture of the kinds of audiences that actually were reached, and how well they were received by that audience. Accurately identifying top performers in a current campaign becomes a way of future-proofing your next wave of promotions. Because you're getting such specific and detailed information about each influencer, you can better understand the kinds of influencers and audiences you should reach. That makes your next round of discovery even easier (lookalikes, anyone?).
With this much data available, and the ease with which users can sift through it, it's a shame that Influencity hasn't built a way to do competitive research into the platform. It could be done at a basic level—simply add your competitor's social accounts and look through the information you get back—but this would have to be done at the expense of your search and IRM credits (remember, each plan has a limit on how many of these you can do). Even at this level, though, the platform would be presenting data, not analytics, but this is admittedly a very small nitpick for what is a very impressive platform.
---
Conclusion
It's a rare accomplishment for something this complex, a platform so loaded with choices and options, to actually make jobs easier. But this is what Influencity does. Your first round of influencer discovery might take you a while—again, this is because of the sheer amount of information to pore over, not because the platform is lacking in any functional way. But as you fine tune your needs, and your best influencer picks become known, it's that much easier each time to launch another campaign.
On its website, Influencity declares its "sole purpose of saving time and money to anyone accountable for creating successful influencer campaigns"—and you'll be happy to know they're much better at developing software than writing marketing copy. That bit of description might be a mouthful, but it's also a true assertion of what the software can do for both brands and agencies. Influencity started before "influencer marketing" was a common practice (much less a known phrase). Given that early understanding of the power of social media for marketers, and how best to wield that power, it's no surprise that—six years later—the company has created a best-of-breed platform.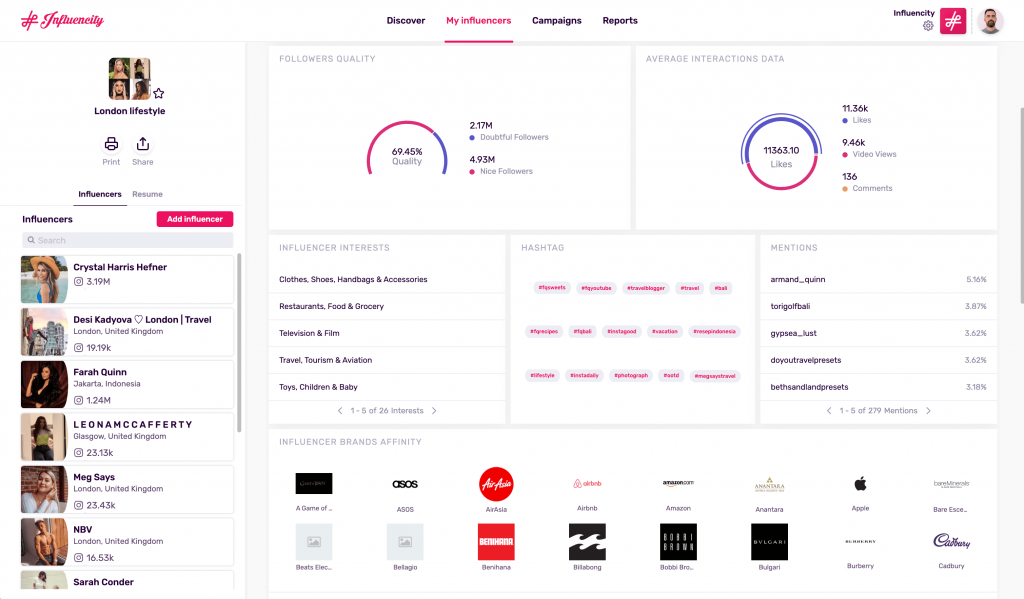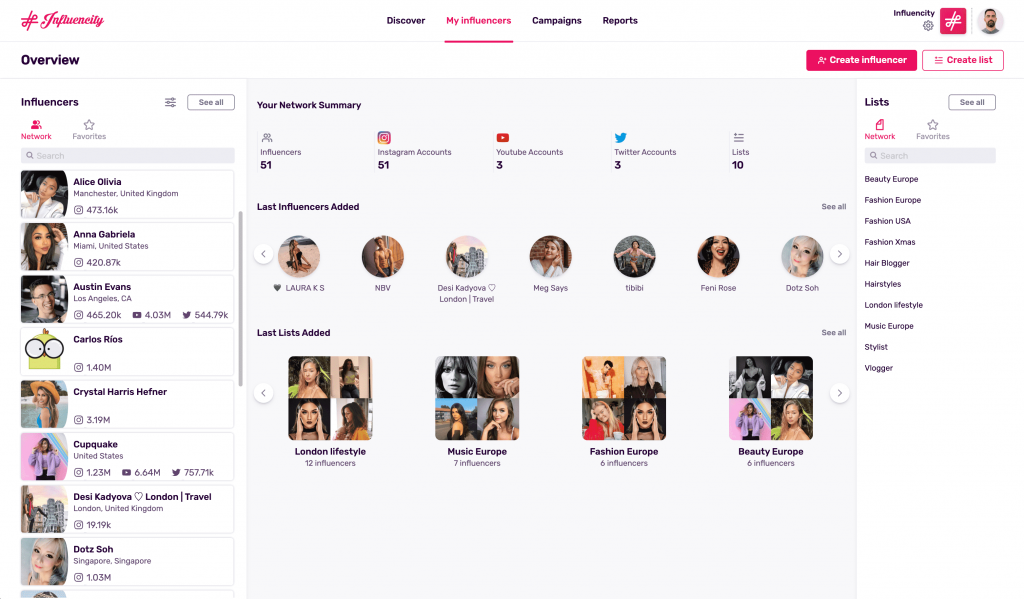 Influencity
Features

Ease of Use

Reporting

Best for:
Small, Medium, and Large Brands, Agencies